Former Australian Idol and recent X Factor judge Guy Sebastian is back in the charts with a new single - and a new sound. He talks to Jacqueline Smith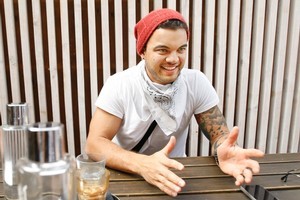 Guy Sebastian chuckles as he reads Stan Walker's text response. He's just been giving Walker stick by sending him a pxt of an old promo shot he just saw in the More FM building. Walker's tossing the joke back.
"He's one of the funniest people I have met, everything that comes out of his mouth is a crack-up. He's just a great guy, he's heaps of fun. I feel like his big brother or something," Sebastian says.
As well as being born out of the Australian Idol family, both Walker and Sebastian's first singles shot to number one, and they say they feel "blessed" to have enjoyed successful careers post-reality TV.
Five albums down the track, Sebastian spent three months of this year sitting on the other side of the reality talent quest judging table alongside Ronan Keating, Natalie Imbruglia and Kyle Sandilands on The X Factor Australia.
He mentored the groups Kharizma, Luke and Joel, and Mahogany. It was when commenting on the latter during a live-cross from LA that Sebastian made the "blew me" blooper that went wild on YouTube.
"What an idiot," he says. "That was like two in the morning for me."
Fortunately he could rely on his good friend Keating for support, even though the joke was re-hashed when Keating made a guest appearance at the Vodafone New Zealand Music Awards this year. Sebastian can not speak highly enough of Keating, who he calls his "favourite".
They cover Bryan Adams' All For Love on Keating's new album Duet, released on Universal two weeks ago.
"He's such a great guy Ronan, really lovely. So thoughtful and generous. I love hanging out with him," Sebastian says.
He thinks it's "insane" that Keating has released 30 consecutive top 10 singles - not that Sebastian is complaining about his own success. Sony thinks highly enough of him to release a retrospective album of his chart-toppers when he has only been around seven years.
"I couldn't have chosen a better life. The goals I set when I was young, what I dreamt ... I never thought I would release five albums with Sony. I thought it would be amazing to have a song on the radio," he says.
The novelty of hearing his music on the radio and seeing someone in a car next to him singing along to it hasn't worn off either. In fact it happened just the other day with his new single Who's that Girl featuring the rapper Eve. And yes, he considers getting her on board as quite the coup.
"I wanted a female rapper, I wanted her to be 'the girl'. Eve is a really classy rapper. Sometimes they are so hardcore."
She was on her way to London when she picked up the email with his song attached and responded right away saying yes, she loved the song and wanted to be part of it. She said it wasn't about the money.
"I really dug that attitude," he says.
Who's that Girl is quite different to Sebastian's earlier soul-based chart-toppers - grittier with a heavier dance pulse, inspired by the catchy melody-based songs Sebastian had been listening to on the radio by the likes of David Guetta and the Black Eyed Peas.
"I'm not reinventing the wheel, not at all. I had that melody, and I could have gone so many ways with it. I could have produced an old-school soul album, but I went towards what you hear on the radio. I'm not going to lie, I listen to what's popular at the moment, and it's what I'm really liking as well," he says.
Sebastian paints himself as a regular guy, and despite talking about working with Eve, Usher, John Mayer and pulling a healthy crowd at an impromptu album signing in an Auckland mall, he really is.
Other than clipping the 'fro back so he can fit it under a beanie, he hasn't changed a lot since being crowned the first Australian Idol seven years ago, other than learning that he can't please everyone. He now knows that agreeing to do 50 charity gigs would near kill him.
That's the sort of lesson The X Factor winner Altiyan Childs, can look forward to learning now he's off the faux-fame of the reality show, Sebastian says. Learning his limits.
"They are treated like absolute stars, honestly they are, and then suddenly they are left on their own. That's where the real test begins. They will need the right attitude," he says.
As a popstar born from reality television, Sebastian and the likes of Walker and Childs are somewhat owned by other people - the guy snapping him and wife Jules Egan shortly after they had moved into their new Sydney abode the other day is part of the deal. Sebastian expects that sort of interest will die down when they realise photographs of him getting out of bed and going upstairs for some cereal aren't going to sell.
"It's alright. They'll get bored of seeing me hanging out on the deck in my jocks."
LOWDOWN
Who: Guy Sebastian
What: The former winner of Australian Idol and recent mentor on The X Factor Australia has released a retrospective album Twenty Ten which features a new single Who's that Girl.
-TimeOut