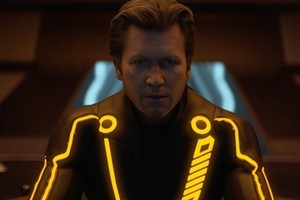 The long-awaited sequel to early 80s cult cyberspace classic Tron brings Jeff Bridges back to the future - twice. Michele Manelis reports.
Jeff Bridges isn't usually a sequel kind of guy. Sure, he's been in two Iron Mans now as evil bald dude Obadiah Stane. But until then, the only time he's gone back to a character was in Texasville in 1990, where he reprised the character he had played 19 years earlier in 1971's The Last Picture Show.
Returning to Tron as computer boffin Kevin Flynn who, in the early 80s, was sucked into a videogame of his own creation, is even a bigger stretch. In all sorts of ways.
Bridges smiles and says matter-of-factly. "A lot of people thought of it as a flop. Hopefully this one won't be."
"This one" is Tron Legacy is the sequel to the 1982 film which might have pioneered the use of computer graphics and virtual sets.
It came with neon costumes, supercharged cycles screaming across a grid, and lethal frisbees. Which was fairly radical for a Disney film but it went largely unloved at the box office and shuffled off to cult status, especially the first generation getting to grips with home computer games.
Now, armed with 21st century technology, and with an estimated budget of US$172 million ($231 million), Legacy delivers the cyberspace adventure its predecessor, then made for US$17 million, wasn't able to achieve almost three decades ago.
In these risk-averse times, Legacy seems a gamble -an expensive sequel to a movie that didn't exactly bring in the big bucks the first time and has limited brand recognition.
So, why revisit the Tron world?
Screenwriter Adam Horowitz says, "Five years ago we couldn't tell this story. It just wouldn't have been the right time and it wouldn't have worked. Legacy is about finding human connection in a digital world and is only now a timely subject because that's what we're doing in our daily life. We take our kids to the park but our eyes are on the flashing light of our Blackberry."
Tron was about Kevin Flynn (Bridges) the world's leading tech visionary/computer genius, who forms a digital world only to be swallowed up by the videogame he created. He is forced to become a player in this violent cyber universe.
The original was directed by Steven Lisberger, who returns as producer for the sequel, a labour of love; it took 10 years in the making to convince Disney to green-light the idea. During this time, co-producer Sean Bailey discovered soon-to-be director Joseph Kosinski's test reel of his revolutionary television campaigns including Halo, Nike, and Gears of War. After a proof-of-concept test was conducted (first at the 2008 San Diego Comic Con convention), it was full steam ahead.
Bridges returns in the leading role, as well as acting opposite his younger self in the form of the digital head, Clu. It's the first time we've seen the same actor, mano a mano against himself in different age spans which also proved the film's biggest technological hurdle.
A mask of his face was made from a mould containing 52 holes which acted as a template for the facial marker dots tracked by cameras attached to a carbon fibre custom helmet. Photographs of the then-thirtysomething Bridges were used to complete the task.
"When they first started to work on it, they brought the first qualified expert to check it all out. My wife. It passed muster for her, and we were all relieved," smiles Bridges. "It was made by the same guys who did (The Curious Case of) Benjamin Button. They showed me Brad Pitt's head in a glass box. It really wasn't like anything you'd seen before. You expected him to say, 'Hey, how's it going?' It was so real-looking."
Bridges didn't take much convincing to jump on board the sequel. "One of the things that attracted to me to the original Tron was that it was a chance to work with all the technology of its time. It's funny now when you consider we didn't even have the internet then."
The movie is comprised of some of the most cutting-edge stereoscopic 3D technology available, including even more advanced cameras than James Cameron used on Avatar, as well as a blend of photorealistic computer animation and practical sets.
Bridges explains, "I had to learn a bizarre way of acting on this one. Legacy was an exercise in making movies without cameras. It was very odd for me. When I play Clu, I'm dressed in a white leotard with black dots all over it, black dots all over my face, a helmet on my head with these cameras coming out of it but no cameras in the room," he says. "No cameras? That was very strange for me and as an actor I like having a costume, I like having makeup, I like having a set, I like knowing where the camera is. But in this case, everything is done in post-production, even the camera angles. The challenge was to try not to bitch too much about it," he laughs. "It was a bit like going to a party where they're playing a waltz and you come in saying, 'Dammit. I came here to cha cha'. I had to get with the programme."
In Legacy, 20 years have passed and the motor vehicles (light cycles) and the Frisbee-like weapons (discs) are flashier and more dangerous as their movements are now three-dimensional.
But at the core of this impressive visual wonder, is a classic story of a father and son. Sam Flynn (Garrett Hedlund) is haunted by the disappearance of his father (Bridges) who has been trapped for 20 years in the video game he created. The estrangement and reunion is the heart of the movie.
Hedlund had to spend many hours training on the virtual bikes. "I grew up driving a dirt bike on a farm, but this was something else. This was like 'sports 1000' and you can get to 80 miles an hour in first gear. The disc sequences were pretty unique. You just had to surrender to it being a fun thing and quite a lot of improvisation was helpful in playing the game," he says.
The original Tron spawned a popular arcade game and, inevitably, to coincide with the release of Legacy, a video game Tron: Evolution will be available on Microsoft Windows, PlayStation 3, Xbox, Wii and Nintendo.
Bridges says he doesn't have much of a relationship with technology. "I don't Tweet, I don't do Facebook, but I have a website [JeffBridges.com] I like to mess around on," he says. "As far as video games are concerned, I was into it on the first movie. The whole crew was into it. Lisberger, to his wisdom or ignorance, had the walls of the soundstage lined with videogames, for free," he laughs. "You didn't have to put a quarter in. So, that's where you'd find me. I'd say, 'I'm preparing, man. I'm preparing for my role'. But these days I don't play too many games."
The most talked about aspect of the movie is the dual role Bridges, who turns 61 next week, shares with his thirty-something self, begging the question: would this happily married, award-winning actor change anything if he could be 35 again? Bridges pauses, scratching his chin. "Well, probably not. I think it all worked out pretty well. Don't you think?"
LOWDOWN
What: Tron; Legacy 3D, a next-generation sequel to the early computer nerd cult classic from 1982, again starring Jeff Bridges, only in two versions - as he is today and as a digitally rendered, younger alter-ego
When: Opens at cinemas on December 16
-TimeOut