Ethan Grout by Matt Howard
Allen & Unwin, $37.99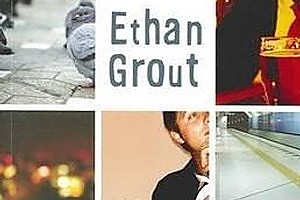 From Melbourne comes this lightweight, intermittently focused novel of lightweight, intermittently focused youngish people. Ethan G has wandered through 27 years of life, abstracted and unreachable as a texting teenager. He's always been that way: "I've nowhere to be, and keen to get there." His idea of a night out is a solitary No 52 from an Asian takeaway; his idea of a gourmet breakfast is two sausage McMuffins. He rather suits an inner-suburbs environment, where "anything before yesterday is old".
Improbably, he gets a job as book-buyer for a big Australian retail firm. It's probably worth noting that he's hired because "he's not too booky". It's also probably worth noting that the author once held a similar position.
So we get a lot of acerbic comment on an industry which emphasises that selling books is no different from selling exhaust pipes, where the non-fiction specialist doesn't know that Georgia is a country or that World War II actually happened, where the staff list is heavily loaded with bimbos (not my word), including one named after a cheese.
Ethan finds himself drawn to the emphatically non-bimbo-ish Alejandra, who reads Chinese history by choice, does a good line in character assassination, and likes to goad management by asking if time spent stuck in the lift is paid time.
It's a comedy of manners - or the lack of them. There are clever lines. Howard is spot-on (and self-indulgent) with dialogue. He also has two sharp eyes for office joshings and jostlings. You'll enjoy the Friday bonding sessions, you'll pity the sales reps, you'll keep feeling that Roger Hall could have done it much better as a play.
Inventiveness abounds: the computer program to replace those tiresome human authors, the employee who replaces the name of a best-seller's sexiest character with her name at printing time, the other employee who adds the words "May Contain Nuts" to the company logo.
There are sombre moments, but mostly it's clever and bouncy, like most of its cast. Also like them, it's a bit anodyne and a bit superficial.