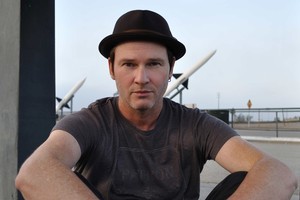 Greg Johnson has been making music for more than three decades and has long been described as a veteran of the New Zealand music industry. And now, as he releases his ninth album, Secret Weapon, he also has the new title of "pioneer" to contend with.
But you'll get no complaints from the US-based Kiwi singer-songwriter. He says the way in which he's gone about funding the album - asking fans to pay upfront before even hearing it - really was treading new ground on what has become very shaky territory.
"It's new times," Johnson says of the evolving music industry. "I think you can either sit back and pretend that nothing's happening or make changes. That's why I thought now was the time to be inventive and not be old school about it."
Secret Weapon was made entirely from the money raised through pre-order online packages, which ranged from $30 for a signed copy to $3000 for executive producer status.
At first, Johnson says, some were confused by the concept. And, of course, there were the sceptics. "A few people mistook it for charity. But it's not. For their money, they got equal amount of recording as they would if they'd gone to the store later."
As a way of saying thank you, the names of everyone who pre-ordered the album are now forever emblazoned on the artwork - an extra touch that went down well with long-time fans.
"There are a lot of music lovers out there and they quite rightfully feel as though they were a part of making this record," he says. He's adamant he has made no compromises in the album's quality.
"I've been working on getting my studio up to world-standard for the last few years. Given that, I'm really pleased with how it sounds. Actually, I would say it's the closest to the happiest I've been on any record I've made."
So would Johnson do it again?
"Absolutely! People had to take a leap of faith buying a record they hadn't heard but there are a couple of hundred names in there. I'd definitely do it again."
Greg Johnson's latest album, Secret Weapon, is out now.
-Herald On Sunday / View