Kanye West is emerging from a troubled patch, rebuilding his remarkable career with a new album and the slick use of the tools of social networking. Elizabeth Day reports.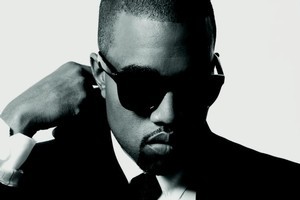 Rapper Kanye West is not a man prone to modesty. This, after all, is the 33-year-old who once claimed he would be a leading character in the Bible if it were rewritten and who unabashedly calls himself "the voice of this generation".
His healthy sense of self-worth was still very much in evidence at a recent private screening in London of his latest oeuvre - a 40-minute music video entitled Runaway. West took to the stage in black shades and a brown leather cummerbund to tell the select audience that "I am the tree and the people are the branches" before going on to compare his new album to "the abstracted works of later Matisse or Picasso".
The album, My Beautiful Dark Twisted Fantasy, is most hotly awaited, largely because of West's ability for self-promotion and determination to re-establish himself as a credible artist after a bruising few years.
In 2007, his mother and manager, Donda West, died of complications arising from plastic surgery.
Kanye, on tour at the time, went back on stage a week after her death and broke down mid-performance. Five months later, West split from his long-term fiancee.
Then, last September, he infamously stormed the stage at the MTV Video Music Awards while the doe-eyed country singer Taylor Swift was accepting her gong and loudly proclaimed that Beyonce had been unfairly snubbed. The ensuing controversy reached such proportions that even President Barack Obama was said to have called the rapper a "jackass".
"It all fell down around him," says Rich Juzwiak, a cultural blogger based in New York.
"Before that episode, Kanye had done a good job of walking the line between cry-baby and attention-grabber. I think people hated what he did to Taylor Swift because of the sense of entitlement it displayed."
West disappeared from the music scene for six months, then spent a further six months working on his new album. Now, he is returning to the limelight on his own terms and seeking to reinvent himself through social networking.
In the run-up to the release of My Beautiful Dark Twisted Fantasy next month, the singer has been tantalising his fan-base with a trickle of free downloads via his Twitter feed. Publicly claiming to be weary of fame and of being misquoted by journalists, he has shunned interviews with traditional media outlets, choosing instead to communicate directly with his fans on Twitter with gnomic statements that have attracted almost 1.5 million followers.
In the last few months, West has used Twitter to post images of his diamond tooth fillings, as well as contemplating such thorny issues as the ideal lipstick colour for a woman and why iPads are "sexy". In July, West visited the headquarters of Facebook in California to talk to staff about the inspiration behind his work, before standing on a table in the canteen and performing a cappella raps to the delight of the assembled crowd who swiftly posted camera phone footage on YouTube. He made a similar visit last month to the Rolling Stone magazine offices. The resulting videos went viral.
It is, says Ekow Eshun, director of the Institute of Contemporary Arts in London, a revolutionary strategy.
"It's a really important move," Eshun explains. "I'm fascinated by his use of Twitter, because it's such an honest medium. What Kanye is managing to do is to give a version of himself through this sort of stream of consciousness that allows him to establish a potentially different form of relationship with his consumers because they think they're getting something real and honest. They don't think he's trying to sell them anything. Twitter provides him with another arena for a performance, but it's riskier than a concert because he's opening himself up to ridicule."
West is accustomed to standing out. The son of divorced parents - his mother was an academic and his father, Ray, is a former Black Panther turned photojournalist - West was raised in a comfortably middle-class household and did well at school, later enrolling at Chicago State University where his mother was chair of the English department. He dropped out to pursue a career as a music producer, attracting acclaim for his work on Jay-Z's 2001 album, The Blueprint, before striking out on his own as a solo artist.
His background and clean-cut sense of style (West rapidly became known for his freshly ironed button-down shirts and baseball caps with the bill worn forwards) meant that he cut an incongruous figure on the rap scene. It is a contradiction that continues to this day. On the one hand, he is a successful hip-hop star whose albums have gone platinum several times over and won him 12 Grammys. On the other, West unapologetically embraces highbrow culture and makes no secret of his obsession with high-end fashion labels - he is often photographed in the front row at fashion shows, wearing well-tailored pieces from Lanvin or Yves Saint Laurent. He has his own clothing brand and last year spent time as an intern at the Italian fashion house Fendi. But whereas other hip-hop stars tend to wear labels as an exercise in brashness and bling, West exudes a sense of refined taste.
"I can bring real culture to pop culture," he said at the Runaway screening. "I want to bring style to the mainstream. We talk about the art world and the pop world. I feel convicted [sic] to help crash those worlds together."
Runaway, which West directed and starred in, was heavily influenced by film noir and Greco-Roman mythology and features an extended ballet sequence.
Tracks from his new album contain cello samples and references to Italian Vogue. He is a perfectionist. One of his most famous songs, Stronger, went through 50 takes and wove in everything from Nietzsche, French acid house and mid-1990s anime. The choreographer on Runaway, Yemi Akinyemi, said last week: "This guy is really hard to work for. When it's not perfect, he's not fine. He won't let you sleep, he won't let you go home."
Eshun places the rapper firmly in the context of pop art: "If you look at pop culture artists like Andy Warhol, they're serious about their work but they've also got enough self-consciousness to play that game of presentation. Kanye is serious about his work, but his work is pop culture and that means part of it is playful, part of it is ironic."
LOWDOWN
Who: Kanye West, the least humble man in hip-hop
What: New album, My Beautiful Dark Twisted Fantasy
When: Out Monday
- TimeOut