Toni Jordan's novels resist convenient labels, but that's exactly how the ex-scientist likes it.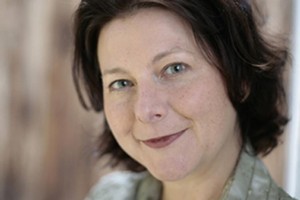 It's difficult to know how to classify Toni Jordan's novels. Are they chick lit? Not really. Literary then? Romance? Comedy?
"That's the trouble," admits the author over the phone from her Melbourne home. "Readers never seem to care, but publishers like to put things in boxes and they struggle with my writing."
Jordan has produced two novels so far: her best-selling debut, Addition, about a woman who's obsessed with numbers, and the newly released Fall Girl, the story of a family of con artists. Although neither truly counts as chick lit (no shoes or shopping for a start), Jordan's writing is snappy, smart and funny and Fall Girl's Della Gilmore as sassy a heroine as you could hope to encounter.
The story begins with professional grifter Della posing as an evolutionary biologist in search of a research grant in a bid to swizzle funds from a good-looking millionaire, Daniel Metcalfe. However, Della isn't counting on her target accompanying her on a field trip into one of Australia's national parks, and there things start to get interesting.
"The research was so much fun," says Jordan. "I collected books about con artists from all over the place. It's such a fascinating world. The thing that stuck with me is that it's hard work and they could put that energy into something legitimate but they get a buzz from subverting the rules."
Although she didn't meet any real-life con artists in the course of writing the book, Jordan does admit to having brushed past a few in her past.
"My parents were greyhound trainers and my uncle a bookie so they had all these shifty friends when I was a kid," she recalls. "I remember going to shop for Christmas presents at the back of someone's house and everything being laid out on trestle tables. It's a scene I've used in the book."
Jordan's inspiration for Fall Girl was the romantic comedies and thrillers of the 1950s and 60s.
"I was thinking about heroines like Grace Kelly in To Catch A Thief," she explains. "Today's romantic comedies all seem to be about gruesome women who are so uptight and career driven they can't get a man. The heroines in those old films were a lot more self-determining. They knew what they wanted and went after it."
Interestingly, becoming a fiction writer was never really what Jordan wanted. She hadn't even attempted a short story before she embarked on Addition.
A scientist at heart, for years she'd worked full-time as a research assistant or marketing roles. "But the company I worked for was in financial trouble and I thought I was going to lose my job," she explains. "So my husband said he'd support me so I could go back to study and get some kind of qualification."
Jordan chose to take a professional writing and editing diploma with a view to setting up her own technical writing business. "My brilliant husband suggested I do a creative writing subject just for fun so I chose novel writing and started working on Addition."
These days, Jordan teaches the course she once took. She makes sure to tell her students that it's unlikely they'll get their first novel published and, even if they do, it probably won't sell. "They just sit there with their arms crossed refusing to believe it because the opposite happened to me," she says.
So far, Addition has been published in 16 countries and been listed for a couple of awards. Success has had its downside, though. "There was pressure on me," Jordan admits. "What if people didn't like my second novel so much? Writing it was excruciating. I had to push my fingers over the keyboard. That should have been a clue to me that it wasn't working. If I want my stories to have a lightness of touch and spirit then it has to feel that way when I'm writing."
Her publisher's face turned pale when he read that first version. "Him not liking it felt like the worst thing that could happen," says Jordan. "Once that was out of the way the fear vanished and it was so much easier to write."
It took only four months for Jordan to write the second version of Fall Girl, which bears very little resemblance to that dull first draft. "Only the scene where Della seduces Daniel by talking about embryonic development is still the same really," she says.
Although her writing is fast and witty, you still get a sense of Jordan's scientific background in the way she treats her characters and themes. "I find people so interesting and I suppose I'm looking at them a bit like a scientific experiment," she explains. "With Fall Girl I'm interested in the way people manage to justify their own behaviour. The book is about the lies we tell other people and the lies we tell ourselves."
Jordan supplements her writing with journalism and teaching. But what she loves most is producing offbeat intelligent fiction that people find difficult to classify or put in a box.
"I'm having the time of my life. For 20 years I got up and went to a lab or office. Often I wish I'd done this earlier but I'm not certain I'd have had as much to say or the same ideas about the way the world works and the psychology of people."