Doing an album with his piano-playing hero Leon Russell was a dream project for Elton John. He tells Des Sampson why the change is going to do him good.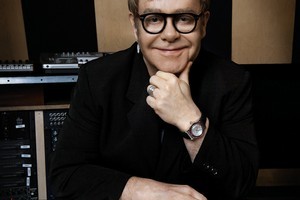 Across a remarkable 40-year career, Elton John has been depicted - at his worst - as a tetchy, tiara-throwing diva who's flash, brash and crass, or - at his show-stopping best - as an outrageously flamboyant entertainer. But he's rarely been portrayed as modest or mellow - until recently. So, what's changed?
It isn't because he's nearing pensionable age, insists John. Instead, it was collaborating with his lifelong idol, Leon Russell, on The Union, a gospel-driven collection of honky-tonk rock 'n' roll and powerful, piano-based blues that has given him a new perspective on fortune, fame and fate.
"Of all the great piano players, Leon Russell was the one I respected the most," reveals John. "He was a giant in his prime. In the late 60s and early 70s, he worked with all the greats, like the Beach Boys, Eric Clapton and The Rolling Stones. But then, in the mid-70s, he just fell off the radar.
I don't know if it was his management, alcohol or drugs, but he just disappeared."
If it hadn't have been for John, Russell would have remained lost - just a footnote in musical history, despite writing masterpieces like This Masquerade and Song for You. That's because John called him up, out of the blue, after his partner, David Furnish, had played one of Russell's albums, while they were on holiday.
"We were on safari, in Africa, and when he put it on during lunch, I just thought, 'wow, what great songs'. So I called Leon up - I hadn't talked to him for 37 years - and asked what he'd been up to," explains John.
"It turns out he'd been driving around America for 30 years in an old, battered bus, playing small venues, just to try and make ends meet. I was really shocked and didn't know what to say. It made me realise how many great musicians fall by the wayside and that my success was really just a matter of luck - of being in the right place at the right time - because Leon could quite easily have had my career and vice versa.
"So, I asked Leon, 'do you want to do a record with me?' and he said 'do you think I can still play and sing?' That's how down he was."
When they teamed up in the studio with producer T-Bone Burnett, it was soon evident that Russell hadn't lost his knack for knocking out great tunes, like the sentimental You're Never Too Old or There's No Tomorrow, a joyous, gospel romp built around the chorus of the majestic Hymn #5, by The Mighty Hannibal. Russell even penned a song, especially for John.
"Apparently he asked his wife, 'what can I get Elton, who has everything already, for giving me a second chance? I know, I'll write him a song.' So that's what he did," says John, smiling.
"When he first played it, he looked me straight in the eye and said, 'thank you for saving my life'. That's probably the most moving thing that's ever happened to me. I got so emotional that I rushed outside for a cry before continuing.
"You know, before we started, we weren't sure if the two of us playing pianos together on a record would work, but from that moment we realised that it was going be a real labour of love," John enthuses. "Our styles worked so well together."
Those emotions and their mutual admiration infuse The Union with its raw passion, heartfelt soul and boundless energy. What's more, being recorded "live", without overdubs, it also has a freer, edgier feel to it than John's last few albums.
"Yeah, it does because most of the tracks were done in two takes with live musicians, which I haven't done for a long time. In fact, Monkey Suit was the original piano track Leon and I put down. That's how live it was," reveals John, smirking. "Some of it isn't in perfect time or is a little rough around the edges, because recording live makes the song looser and stretches it out. But that's its charm, I think."
John admits that recording The Union has left a lasting legacy, making him reappraise his priorities and also changing his views about songwriting.
"I'll always want to make music. It's just what kind of music I'm going to make now. That's why making this album has been good for me, because it made me realise I don't want to make pop albums anymore.
"Don't get me wrong, I love pop and writing for the Scissor Sisters, or appearing on a Tupac record - those little side-projects are the icing on the cake - but I'm 63 now, so I'm not interested in the singles' chart anymore," he admits.
"I just want to make records, like this one, which fit the piano-playing style I have and are appropriate for someone my age.
"Working with Leon on this, I've found the path I want to take for the rest of my life - to make records where I'm using great musicians, playing live and writing the best songs I can possibly write," he surmises. "But I had to go back to go forward. I had to return to making records that were done live, like I used to - to realise that's how I want to make records now."
Collaborating with his hero has also altered John's outlook on his own life and livelihood, because of the hardships Russell's endured in the last 30 years.
"If you forget about the music, this is an incredible human story of someone - Leon - quite literally coming back to life," John stresses. "Before we started recording Leon was seriously ill and had to have a five-and-a-half hour operation, because he had spinal fluid coming out his nose. But since he's been back, he's become a different person: he's healthier, funnier and more confident because he's been given his dues and got a lot of love from people like Stevie Nicks, Ringo Starr and Grace Jones, who all visited the studio to pay homage.
"That's why I think this is a special album and a special story," asserts John. "It's not just about the music but also the story behind the music.
"I just want Leon to enjoy the accolades he's finally receiving, I want him to be comfortable and, most of all, for him to live with his lovely wife Jan and not have to worry about where his next dollar is coming from or have to go out and play in small clubs three or four nights a week just to survive.
"If this album allows that to happen, then that's all I can ask for..."
LOWDOWN
Who: Sir Elton John
What: New album The Union, a collaboration with fellow pianist Leon Russell
When: Released November 2
-TimeOut