How chick-flick Eat, Pray, Love sold out to the forces of materialism. By Guy Adams.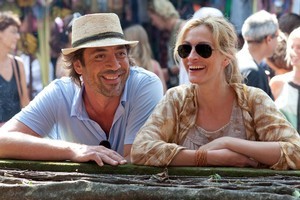 Born near Atlanta, Georgia, in the buckle of America's Bible belt, and raised by a Catholic mother and a Baptist father, Julia Roberts announced in August that she'd undergone an extraordinary religious conversion. With the supreme self-confidence that only very major Hollywood stars can truly muster, the 42-year-old actress declared: "I'm definitely a practising Hindu."
Roberts had been visiting temples to "chant, pray and celebrate" with her husband, Danny Moder, and their three small children, she said. "Hinduism is something that I'm very intrigued by and very interested in," adding that in her next life she would prefer to be someone "quiet and supporting", rather than returning as another celebrity. In publicly sharing her new-found, and slightly unconvincing, grasp of spirituality, Roberts was at least keeping in character.
Her announcement was not so strangely timed around the release of her hugely hyped new film, in New Zealand cinemas from Thursday, in which she plays Elizabeth Gilbert, the yoga-loving, knitting author of the best-selling memoir: Eat, Pray, Love.
The book has graced the bedside tables of seven million readers, most of them women, around the world, and has been a constant presence in top 10 lists since its publication in 2006. It follows 32-year-old Gilbert's efforts to escape the tyranny of her urban existence, after finding herself unhappily married and suffering a sort of early mid-life crisis.
It tells how she splits with her husband, leaves Manhattan, where she's a freelance writer, and sets off on a globe-trotting journey of self-discovery. In Italy, Gilbert learns how to "eat", enjoying fine wine, ice cream, pizza, and embracing her ever-expanding waistline. In India, she decides to "pray" and locks herself away in an ashram for months.
The "love" bit comes in Bali where, in the final chapter of her "search for everything", she falls for a Brazilian-born, Australian factory owner called Felipe, played in the film by a swarthy Javier Bardem. Felipe returns to the US with her, they get married and, we presume, live happily ever after.
Inspired by the book's cult following, and no doubt impressed by the huge success of female-skewed films such as Sex and the City, Sony threw an estimated NZ$113 million at making the movie, a huge sum by the standards of so-called chick-flicks. Tens of millions more were spent on a high-profile marketing campaign.
Directed by Ryan Murphy, the man behind the television phenomenon Glee, the film boasts a hugely extravagant ensemble cast of A-listers. In addition to Roberts and Bardem, the film-makers signed pay cheques to Billy Crudup, Viola Davis, James Franco, and Glee star Mike O'Malley.
Yet as Eat, Pray, Love's star-studded PR machine began furiously selling their movie to at least 20 countries, the first cynical whispers of an angry backlash were heard. Fans of the novel, which is after all based on the premise that to achieve happiness one must break free from the shackles of 21st-century consumer culture, were upset, and faintly gobsmacked, at the film studio's efforts to use the supposedly anti-capitalist movie's release to endorse several ranges of stupendously tacky merchandise, hardly any of which actually featured in the film.
One typical deal involved Fresh, a US cosmetics manufacturer, which was licensed to flog a range of perfumes based on the film's locations. Informing us that "fragrance is a big part of my own spiritual journey", the firm's founder claimed they would actually "transport you to a specific destination" in the movie.
Confused? Don't be: the marketing blurb adds, for example, that the US$32 ($42.50) "eat" fragrance was inspired by the delicate aroma of a Tuscan pasta restaurant. It contains "notes of bright Italian lemon and basil balanced with creamy textures reminiscent of cannoli and tiramisu topped off with sparkling prosecco and limoncello".
Just as preposterous, and extravagantly priced, was a range of jewellery and trinkets being sold by a firm called Dogeared, which hoped to sell lonely or fulfilment-seeking fans of Gilbert's book "something to wear, connect with, and take with you as your own story unfolds". It included luggage tags, notebooks, and a "109-wishes prayer turquoise bead necklace with green onyx", which costs US$152 and allegedly provides the wearer with "a beautiful reminder to live in love and gratitude".
Elsewhere on America's high streets, Costplus, budget import stores beloved of people who live in suburbia but wish they didn't, had an entire section of their outlets devoted to the film. They sold themed sarongs, bath robes, prayer shawls, furniture, rugs, and pillows. Household ornaments included "meditation bells," Buddha statues made from stone, wood, and terracotta, and a "three-shelf Indian glass curio cabinet" (US$100) to keep them all in.
The final insult, given Eat, Pray, Love's emphasis on following one's own path in life, has been the fact that several upmarket travel companies are now running package tours that will transport holidaymakers to exotic locations where they can practise yoga and vegetarianism, just as Julia Roberts did.
For the princely sum of US$20,000, Micato Safaris will take you on an 18-day "inspirational India" tour, involving sessions with reiki masters, yoga classes, and private sessions with astrologers and "gem doctors" who can allegedly cure illnesses using "the healing properties of gemstones".
The great irony, note critics, is that if a sufficient number of fans buy into these tours, they will end up destroying the very thing they have come to celebrate: the undiscovered nature of the charming locations detailed in the film and book.
One could, of course, argue that it was ever thus: film-makers have been knocking out merchandise ever since George Lucas released his Star Wars figurines, and in an era when box-office revenues are flat, studios need all the tie-ins and product placements they can muster to turn a profit. But the commercialisation of Eat, Pray, Love may nonetheless herald the acceleration of this ugly trend. It is, after all, a movie aimed squarely at the adult market, whereas the vast majority of over-merchandised titles are designed to cash in on children.
As of this week the film, which has sharply divided reviewers, was scoring 38 per cent on Rotten Tomatoes, the influential aggregation website that ranks films according to their reviews. The newspaper Variety dubbed it "an exotic junk-food buffet that offers few lasting pleasures or surprises, let alone epiphanies".
Bad reviews don't always keep audiences away from films, of course, particularly when those films are aimed at women - most reviewers are male. But even if all seven million people who have bought a copy of Eat, Pray, Love go to see it at their local multiplex, the studio will still be a long way from turning a profit.
Perhaps the only woman who won't really mind the criticism is Elizabeth Gilbert. She recently admitted, to the surprise of fans, that the supposedly free-wheeling trip described in Eat, Pray, Love (yoga tuition fees and all) had actually been funded by a publisher's advance on the eventual book. It was, in other words, an extremely contrived spiritual odyssey designed by a bookseller eager to cash in on a wealthy demographic: middle-aged women who for some reason feel unfulfilled. In which case, one might argue that the entire array of tie-in jewellery ranges, memorabilia and package holidays (not to mention Roberts and her unconvincing conversion to Hinduism) have been, in fact, strangely appropriate.
Eat, Pray, Love is in cinemas from today.
- THE INDEPENDENT