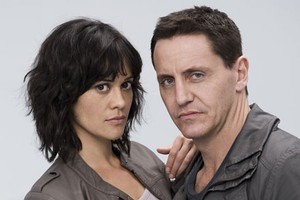 MUSIC
Last week was obviously a big 'un for music but this week is a huge one on the gig front. Tonight's Metallica show is sold out, but it's not all over if you don't have a ticket. Local rowdy kids Surf City and Street Chant play at the Kings Arms before storming America on Friday and electro-poppers the Naked and Famous and Kids of 88 celebrate their new albums (and awards) with a show at the Powerstation. KO88 and the N&F's all-ages show on Saturday sold out pretty quickly.
Sunday is your chance to see the man in the feathers and leathers, Adam Lambert, at Trusts Stadium, or perhaps you'd rather slip into some slowcore rock harmonies with Low at the Kings Arms on Monday. Then of course the Smashing Pumpkins stop in for just one show at the beautiful Town Hall on Tuesday.
TV
If you thought you had seen every incarnation of vampires and werewolves, think again. The BBC has added a ghost to the mix and Being Human screens on Prime on Wednesday. There's less nudity than Anna Paquin's vampy hit but it's still gritty and rather sexy.
Don't miss the final of This is Not My Life, the daring local drama starring Charles Mesure and the oh-so-endearing Miriama McDowell tonight. I have a feeling it's going to be the kind of episode that has you digging your fingernails into the couch. If you've missed an episode, they are still sitting on TVNZ's website.
Speaking of wrapping up shows, Friday night is the final of Maori TV's brilliant talent search, Homai Te Paki Paki, a friendlier, local version of The X Factor if you like.
MOVIES
I feel like I should see Eat Pray Love after reading the book, despite the fact that I would rather doing something rather less holistic than the author - Eat Play Party for example.
The film starring Julia Roberts is out today, as is Ben Affleck's much talked-about thriller-romance The Town, based on the novel Prince of Thieves. It stars the lovely Rebecca Hall of Vicky Cristina Barcelona and new it-girl Blake Lively from Gossip Girl.
And if you want some culture with your scare, French 80s-style spy thriller Farewell also looks worth checking out.
OR ...
Wander through Western Park, Ponsonby and watch the (clean, energy-powered) lights go up as the sun goes down at the inaugural Art in the Dark festival.
A group of artists have been working with the theme "community, environment and utopias" and have created installations and performances that will show in the park this Friday and Saturday between 7pm and 10.30pm.
-TimeOut