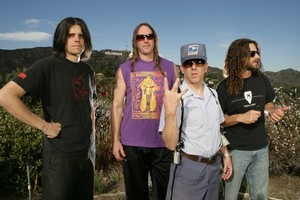 The members of Tool are getting along better than ever after taking their customary between-album hiatus.
They reconvened in mid-2009 and have already started on their new record (the follow up to 2006's 10,000 Days), they've done a couple of mini US tours which got rave reviews, and - suggests bass player Justin Chancellor, sounding a little bemused - they all seem to have grown up a little since they last unleashed their tense and menacing music loose on the world.
Well, as grown up as four men in their late 30s and 40s can get.
Yet Chancellor has one niggling fear.
"It's almost like we've found a better way of communicating with each other, but the worry is the music is going to suck once we all start getting on," he jokes on the phone from Los Angeles.
Chancellor has a point, because it's this sometimes volatile working relationship which helps make Tool's music sound so powerful and intense.
The band, who return to headline next year's Big Day Out following their top billing in 2007, are all very different characters. Chancellor is the affable British bloke with the mind-bending basslines; drummer Danny Carey, at 49 the oldest member of the band, is the sport-loving man machine; guitarist Adam Jones is the axeman, artist, and video-maker; and then there's singer Maynard James Keenan, a particularly prickly, often intimidating chap with a biting sense of humour.
The last time TimeOut talked to him - along with Chancellor - in a face to face interview in Melbourne in 2005 he was in a typically ominous yet somehow jovial mood.
He described himself as the grumpy old man over the fence who may - or may not - give the ball back. When Chancellor is reminded of this, he cracks up.
So how is Maynard five years on?
"He's good, man. He's changing as well. He's into [making] his wine, he's really enjoying that. Maybe he's got a mid-life crisis thing going on? He's in really good form and less grumpy than he might have been back then," he laughs.
Chancellor, who joined the band in 1995 ("I was basically asked to join my favourite band," he remembers.), says getting back together after a break is always a bit odd because they haven't seen each other for a long time.
"But we all come up with stuff on our own, and probably for the first six months we just share our ideas with each other, spending hours dithering around. So it really is a big kind of jam session."
And all he can say about the new album, which might be ready by the end of next year ("You'll have to be patient"), is that "it's going to be exceptional".
If it was to be released next year they would still be reasonably on track to release an album every five or so years. Not counting 1992's mini album Opiate, Undertow came out in 1993 kick-starting their steady rise on the heavy music scene with songs like Prison Sex and Stinkfist, then break-through Aenima was released in 1996, Lateralus 2001, and 10,000 Days in 2006.
"With the new Tool record we're just taking our time with it because we want it to be a cracker, you know," says Chancellor. "It just takes a bit longer every time."
Since 10,000 Days was released, as well as touring, they have been involved in side projects, including Keenan's oddball solo act Puscifer and his band A Perfect Circle, while Chancellor has a new dark and industrial-sounding duo called M.T.void with Polish mate Peter Mohamed.
But there is no way these projects will take over from Tool - "I don't use up any of the arsenal of ideas I have for Tool" - and there is an intense devotion within this band. This loyalty comes from loving what they do, and most of all reckons Chancellor, realising that it is unique how four people can come up with the sort of powerful and singular music that they do.
"It's the one opportunity that we have musically to really go to an extreme level - and I think Tool is clearly that for all of us. It's a very unusual and unique thing. You feel compelled to be loyal to it and have a deep profound respect for it. I think we feel very lucky to have found this chemistry.
"We strive for something unique; trying to create something you haven't experienced before. Music is never going to die but it certainly feels like it's going through a stagnant period where it's getting squashed, processed, and watered down, and I'd like to think we work really hard to keep the idea of music being alive and living."
LOWDOWN
Who: Tool
What: Los Angeles art metallers headlining the Big Day Out, January 21, Mt Smart Stadium
Albums: Undertow (1993); Aenima (1996); Lateralus (2001); 10,000 Days (2006)
-TimeOut