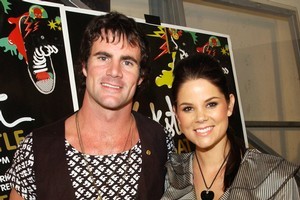 MTV Networks plans to close its New Zealand offices in December, making all of its 23 employees redundant.

The channels the network manages include Comedy Central, MTV and Nickelodeon.
They will continue to run on Sky Television, but will operate out of the network's Sydney offices as of December 1.
Spokeswoman Polly Stevens told NZPA all 23 permanent employees based in Auckland were being laid off.
The number does not include New Zealand presenters Jay Reeve and Amber Peebles, who are "still very much part of the MTV family".
"Right now we are working through with them what the implications of this agreement means, but certainly it will be our intention that they will be working with us in our top projects in the future."
Staff only found out about the move at 3.30pm today, nzherald.co.nz understands.
Ms Stevens said management and staff would be meeting individually tomorrow to work through the process.
The decision to merge channels with Australia came after MTV found schedules and content in both countries were aligned, she said.
"The logical next step for us was to service one feed ... that covers Australia and New Zealand marketplaces.
"Like any business, this is about growth and doing the right thing for the organisation."
Ms Stevens said the move meant MTV could now introduce pre-school channel Nick Jr to New Zealand TV, starting December 24.
MTV New Zealand launched in 2006 and broadcasts mainly American content including flagship MTV shows like Punk'd, The Hills and Jersey Shore.
- NZ Herald staff, NZPA