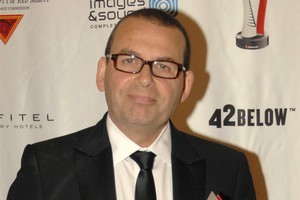 The Qantas Film and Television awards for 2010 have were given out at a Gala event at Auckland's Civic Theatre on Saturday.
Boy took its total following Friday's Craft Awards to seven, with wins for Best Screenplay, Best Director, Best Film and Best Supporting Actor for Taika Waititi.
After winning 3-1 at the Craft Awards in the Battle for News and Current Affairs supremacy (at least according to the awards count), TVNZ will have five further reasons to track down a staff member with a company credit card to throw on the bar - winning Best News Reporting, Journalist of the Year, Best Current Affairs Series, Best Current Affairs Reporting for a weekly programme, and Best News.
Campbell Live also did well, winning Best Current Affairs Reporting for a daily programme, and Best Presenter.
After receiving four Craft Awards, Great Southern Television, makers of The Cult, would have been well-chuffed with Danielle Cormack winning Best Performance by an Actress, and Best Supporting Actress going to Lisa Chappell.
Outrageous Fortune was crowned Best Drama, with co-creator James Griffin winning Best Script.
Another production company with cause to celebrate was Jam TV, winning Best Observational Reality Series for Intrepid Journeys, Best Information/Lifestyle Programme for Radar's Patch, as well as Best Director and Presenter for South.
Best Short Film went to Only Son, after also winning Best Short Film Screenplay at the Craft Awards. It's the first time a film made as part of the 48hours Film Competition has featured in the National awards, and is yet another positive entry on the CV of thedownlowconcept - makers of the hugely popular 7 Days.
However that popularity didn't help it win Best Comedy Programme or Series, missing out to The Jaquie Brown Diaries, which also got an award for Director, Gerard Johnstone.
Tweeting up a voting-storm couldn't help Shortland Street's Kimberley Crossman, with Breakfast star Paul Henry winning the People's Choice Award. His was the speech of the night - reading out an expletive filled letter from an angry TV viewer. It even had the C word.
Earlier in the day, the so-called 'weather bomb' proved an ongoing worry for organisers, with a section of Auckland's Queen Street shut down to traffic and replaced with a red-carpet celebrity spotting zone.
Winners list in full - links to review and video where possible.
Craft Award winners here.
Qantas Best Children's/Youth Programme
Reservoir Hill, KHF Media Ltd (TV2)
Best Information/Lifestyle Programme
Radar's Patch, Jane Andrews, Jam TV Ltd (TV One)
Best Observational Reality Series
Intrepid Journeys, Dean Cornish, Jam TV Ltd (TV One)
Best Constructed Reality Series
One Land, Greg Heathcote and Bailey Mackey, Eyeworks New Zealand (TV One)
Best Director - Entertainment/ Factual Programme
Melanie Rakena, South, Jam TV Ltd (TV One)
Best Presenter Entertainment/ Factual Programme
Marcus Lush, South, Jam TV Ltd (TV One)
Best Entertainment Programme
The Topp Twins and The APO, Arwen O'Connor, Nikki Streater and Arani Cuthbert (TV3)
Best Current Affairs Reporting for a weekly programme or one-off current affairs special
Janet McIntyre and Joanne Mitchell, Discourse with a Dictator, Sunday (TV One)
Best Current Affairs Reporting for a daily programme
Brook Sabin, Darryl's Recovery, Campbell Live (TV3)
Best Current Affairs Series
Sunday (TV One)
New Idea People's Choice Award
Paul Henry, Breakfast
Best Maori Language Programme in association with the Maori Language Commission and Te Mangai Paho
E Tu Kahikatea, Maramena Roderick (Maori TV)
Best Performance by a Supporting Actress in General Television
Lisa Chappell, The Cult, Great Southern Television Ltd (TV2)
Best Performance by a Supporting Actor in General Television
Matt Whelan, Go Girls, South Pacific Pictures (TV2)
Best Script - Drama/Comedy Programme
James Griffin, Outrageous Fortune, South Pacific Pictures (TV3)
Images & Sound Best Director- Drama/Comedy Programme
Gerard Johnstone, The Jaquie Brown Diaries, Young, Gifted & Brown (TV3)
Kordia Group Ltd Best Sports Broadcast
V8 Supercars Hamilton 400, Nigel Carpenter, TV3 (TV3)
Best News Reporting
Paul Hobbs, TSU Funerals, One News (TV One)
Best News or Current Affairs Presenter
John Campbell, Campbell Live (TV3)
Best Performance by an Actress in General Television
Danielle Cormack, The Cult, Great Southern Television Ltd (TV2)
Best Performance by an Actor in General Television
George Henare, Kaitangata Twitch, Production Shed.TV (Maori TV)
Best Supporting Actor in a Feature Film
Taika Waititi, Boy, Whenua Films
Best Supporting Actress in a Feature Film
Stephanie Tauevihi, Russian Snark, Godzone Pictures
42BELOW Best Lead Actor in a Feature Film
Tony Barry, Home By Christmas, Gaylene Preston Productions
42BELOW Best Lead Actress in a Feature Film
Vera Farmiga, The Vintner's Luck, Ascension Film Ltd
Journalist of the Year
Paul Hobbs, TSU Funerals, One News (TV One)
Best Screenplay for a Feature Film
Taika Waititi, Boy, Whenua Films
Best Director in a feature Film
Taika Waititi, Boy, Whenua Films
Best Short Film
Only Son, thedownlowconcept

Best Director - Documentary
Thomas Burstyn, This Way of Life, Cloud South Films
Best Arts/Festival/Feature Documentary
This Way of Life, Sumner Burstyn, Cloud South Films
NZ On Air Best Popular Documentary or Documentary Series
Lost In Wonderland, Costa Botes, Lone Pine Film
Images & Sound Best Drama Programme
Outrageous Fortune, South Pacific Pictures (TV3)
Best Comedy Programme Or Comedy Series
The Jaquie Brown Diaries, Jaquie Brown, Gerard Johnstone and Matt McPhail, Young, Gifted & Brown (TV3)
Qantas Best Feature Film
Boy, Ainsley Gardiner, Whenua Films
Qantas Best News
One News (TV One)