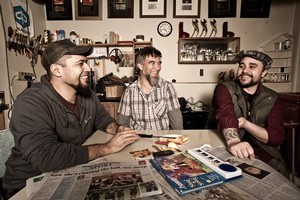 It's five years since Wellington band TrinityRoots turned their one waka into three.
Now singer-guitarist Warren Maxwell, bassist Rio Hunuki-Hemopo and drummer Riki Gooch are rejoining and setting out to revive the band's spirit with a couple of live shows.
The trio met in 1998 when they came from around the country - Maxwell is from Whangarei, Gooch from Dunedin and Hunuki-Hemopo from Taumarunui - to study jazz in Wellington.
Being "the only bros" in class they were drawn to each other. Soon TrinityRoots was born - and with it a unique blend of soul, blues, jazz, reggae and roots enriched with heartfelt lyrics, incorporating a love for the land and their Maori heritage.
Their two albums set the stage for many other local roots and reggae bands, and gave a musical voice to the protest against the 2004 foreshore and seabed legislation.
This week sees the release of the Music is Choice live album and DVD documentary by Wellingtonian Sarah Hunter. It premiered at this year's New Zealand International Film Festival where it wasn't only old fans who re-connected with the band.
"When I saw it, I genuinely enjoyed the music for the first time," says Maxwell. Around the same time a New Year's Eve festival contacted the band and asked if they would ever consider getting back together. That opened a few synapses and I called the guys and we all felt it would be great to get together and rekindle some of the old songs," he says.
The documentary follows the band from their beginnings to their split at the zenith of their popularity.
"There was something going on in the music scene in the late 90s, the whole roots and reggae thing was coming in [after] a decade of rock and it was just luck, because we were creating something really original in the roots reggae [vein]," Maxwell says.
Their two albums True (2002) and Home, Land and Sea (2004) hit their listeners' hearts, creating a loyal fan base.
As a composer, Maxwell says, he always sets out to touch people with his music. "I really put a heavy emphasis on writing something that's poignant and means something. And I guess my style of writing is from a deeply metaphorical angle, I used a lot of Maori philosophy, and Maori proverbs as well. And when Trinity got bigger and bigger around the country, I felt like we were accomplishing that, and it felt really satisfying," he says.
He remembers people coming up and saying "Hey Warren, I hope you don't mind but my dad passed away last year and we used Little Things at his tangi and I hope that is okay". That for me is far greater than album sales. It means that we touched people and that is one of the many roles music has to play in society," he says.
Although the band had a great time together, making many friends along the way, Maxwell never regretted the decision to split. "It was some kind of cosmic thing, part of the faiths," he says. "We split up for a good reason and it was basically after being in Trinity for five or six years, we all felt that we needed to explore other musical genres and Trinity was becoming some sort of machine."
Maxwell went on to form Little Bushman, Gooch Eru Dangerspiel and Hunuki-Hemopo released solo work and co-operated with the likes of Fat Freddy's Drop and Breaks Co-Op. If the reunion will be a one-off or will lead to further recordings is not decided yet.
"We're not sure, what we've discussed is just to see how this summer goes and what everybody's other commitments are, and we'll just have to see how it all feels after these few gigs."
LOWDOWN
Who: TrinityRoots, reunited band of Warren Maxwell, Rio Hunuki-Hemopo and Riki Gooch
When and where: The Bedford, Christchurch, Oct 22; Opera House, Wellington Oct 23. Auckland Town Hall, Oct 29
-NZPA / TimeOut