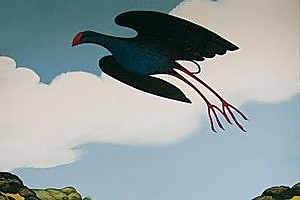 There's something about the grey gloom of an Auckland winter that can lead to a dimming of interest in the art auction scene.
It's often seen in fewer bodies actually attending auctions, with more emphasis on absentee and telephone bids.
It's also seen in a relative slowing down of auction activity, with a to-be-hoped-for welcome revival as spring tentatively struggles to emerge next month.
Webb's sale this month saw some rays of sunshine, however, with works by three living artists - Don Binney, Shane Cotton and Bill Hammond - topping the $200,000 hammer-fall mark.
While all three failed to reach the lower edge of Webb's estimates, they still sold, with auction record prices for Cotton and Binney, whose summery Man's Head from Te Henga III, with its giant pukeko hovering over the sunlit Auckland west coast, went for $256,600 (buyer's premium of 12.5 per cent and GST included, rounded to nearest $100).
The previous auction record was $250,900.
Cotton's monumental Lying in the Black Land, a powerful work completed in 1998 when the artist was Frances Hodgkins Fellow at Otago University, also reached $256,600, and Hammond's enigmatic All Along the Heaphy Highway came close, at $250,900.
Cotton, by far the youngest of the three, has emerged as one of our most important artists. Hamish Keith, in his idiosyncratic history The Big Picture, describes the effect of first seeing his works in Wellington as comparable with his experience as a teenager of first seeing a work by Colin McCahon.
September promises a series of interesting sales, with something for everyone. At the lower end of the scale, the International Art Centre is offering some 200 unreserved works, with the catalogue available online.
Tribal art, which has been selling strongly this year (especially Maori material), will get a good run at Dunbar Sloane, with the second offering of pieces from Kenneth Webster's collection. Webster (1906-67), a New Zealander who moved to England in 1936, was not just a collector but a go-between for New Zealand museums.
Coming up:
September 8: Webb's, rare books.
September 14: Cordy's, antiques and art; Dunbar Sloane, Webster collection of tribal art.
September 20: Webb's, Asian art.
September 21: Art+Object, decorative arts and modern movement; Webb's, contemporary art, photography and ceramics.
September 22: Art+Object, new collectors; International Art Centre, unreserved art; Webb's, jewellery and watches.
September 23: Art+Object, New Zealand artefacts.
September 29: Webb's, model soldiers and ships.
October 5: Webb's, motorcycles.
October 12: Cordy's, antiques and art.
October 16-17: Dunbar Sloane, Bruce Mai collection of railway and shipping memorabilia.
October 24: Webb's, Tom Mackie collection of comics.
November 9: Cordy's, antiques and art.
November 11: Webb's. Oceanic and African art.