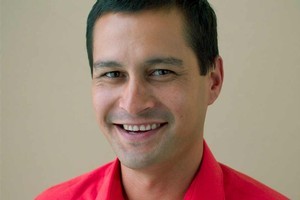 With all this talk about the naughty bits in Spartacus: Blood and Sand, I was intrigued - as I'm sure you might be come Sunday night when it premieres on Sky's Box channel (9.30). So, in the name of research and to prepare your innocent eyes for what sauciness may lie ahead, I sat myself down ahead of time to watch the first two episodes, just for you.
And all I can say is: someone invent a time machine to take me back to the first century BC where I can let loose, wear nothing at all (or a pair of leather undies if I must), fight barbarians, and have my wicked way with whoever takes my fancy.
Just joking. But seriously though, Spartacus does have its fair share of boobs, bums and little guys on display, and plenty of those unbridled sex scenes you might have read about. But, well, it's not that bad. Then again, it takes a lot to shock us these days, since we've become immune to rude bits on the box thanks to shows like True Blood (bloody lust), The Tudors (a bed-hopping bonanza), Californication (in the new series dirty old Hank takes up a teaching job at a college campus. Oh dear), our own Outrageous Fortune (wild Westies), and even The Sopranos had its moments (put it away please, Tony).
The first time I saw sex and nudity on television - from memory it was full frontal, too - was in the early 80s Kiwi film Smash Palace, directed by Roger Donaldson and starring the late Bruno Lawrence and a young Greer Robson. While I don't remember the particulars - although it no doubt involved Lawrence, who never shied away from dropping his drawers - I do remember my mum's brisk response: "Go to bed." On reflection, I don't think it was so much the nudity but the graphic violent scenes being played out. So good on you, Mum.
It was movies (although not all of them on TV) that provided me with many funny and sometimes eye-opening memories of nudey rudey time when I was growing up. Be it the geeks peeping into the girls' showers on Revenge of the Nerds, Tom Cruise and Rebecca De Mornay doing their thing on that chair in Risky Business (an R16 film I managed to see at the Tairua picture theatre as a 12-year-old while on summer holiday), or the beautifully crazy Betty Blue, which, well, um, anyway ... let's move on.
So back to Spartacus. Maybe it's a bloke thing, but seeing willies on TV can sometimes be startling. The thing is, on Spartacus the wee fellas you do see get lost - not to mention looking a little funny - among the bulging muscles and beefy gladiator brawn.
I had also feared seeing Lucy Lawless in the buff might be a little like bursting in on your folks, especially since her on-screen hubbie is John Hannah (who played the lovely Matthew in Four Weddings and a Funeral, remember?).
However, prepare yourself, because it is our Lucy (as the beautiful Lucretia) and Hannah (as Batiatus) who might just have you spluttering your shortbread into your cup of tea one Sunday night very soon. And this particular scene doesn't even show boobs, bums, or willies. I'm not revealing details, because I advise witnessing it for yourself, but let's just say if you ever wondered where the word "handmaiden" came from, here's one possible explanation.
Now, where's that time machine?
- TimeOut