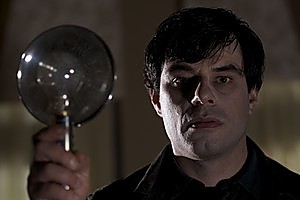 Here's to you, Mr Morrieson
Ronald Hugh Morrieson's name doesn't sit well among New Zealand's distinguished literary elite - he was too much of a scallywag for that.
And his wildly funny, and at times menacing writing shows little regard for the more traditional conventions of literature.
"He wrote for the hell and joy of telling a tale," is how writer, and Morrieson's sometime drinking buddy, Maurice Shadbolt, puts it in the introduction to the author's 1975 novel Predicament, which was published three years after Morrieson's death at the age of 50.
However, what no other New Zealand author can claim is having all of their books made into movies. Predicament is the last of his four novels to make it to the big screen following 1981's The Scarecrow, about a killer in a small town; the violent freezing works tale Pallet on the Floor from 1984; and the hilarious, dark hoot of Came a Hot Friday in 1985, which starred Billy T. James as the Tainui Kid.
Jason Stutter, the director of Predicament, which opens in cinemas on August 26, spent a good chunk of 2009 filming in Morrieson's South Taranaki hometown of Hawera, and in nearby Eltham where many of the buildings retain a 1930s style. It was in Hawera where the writer lived his entire life, playing in bands, doing a stint at the Patea Freezing Works, teaching music, drinking, partying - and, from his late 30s on, writing books.
During filming Stutter came across a few people who still had less than fond memories of Morrieson's eccentric, rabble-rousing ways, and his not always flattering depictions of the town in his novels.
And there is still a little embarrassment among locals about the writer's old house being demolished to make way for a KFC in 1993.
"I joke that his house gets more visits than any other novelist's house in the country," he laughs.
But, reckons Stutter, despite his roguish reputation, there is no denying Morrieson's talent as a writer.
"I'm just in awe of it," he says. "This guy was not a trained writer, and he just sat at home and wrote these stories, and I think every now and then you come across someone who is a genius - and I think he was. There is so much depth, and such an absolute understanding of human nature in his writing. It's really sad that in his lifetime he didn't get [Predicament] published, and that he wasn't seen as the amazing writer he is."
Similarly, 22-year-old actor Hayden Frost, who plays awkward yet likeable teenager Cedric Williamson in the film, grew to love Morrieson's work and was intrigued by his colourful life.
"It's possibly easier to do at a distance, because all you have to go on is the legacy," he says with a laugh. "He seemed like a bit of rascal, and absolutely his own man. And you can see why at the time he wouldn't have been remembered with a great deal of fondness by the community, because he was this strange man who had parties and all sorts of things going on. But you get this picture of a really unique personality who you wish you'd met, just once."
Predicament tells the story of young Cedric who finds himself in cahoots with two misfits - loud mouth Mervyn Toebeck (played by Australian comedian Heath Franklin whose best known for his parody of Aussie criminal Chopper "Harden the f*** up" Read) and creepy oddball Spook (Jemaine Clement of Flight of the Conchords). The trio come up with a blackmail scam, whereby they photograph philandering and adulterous couples, but it backfires with sinister results.
Stutter loved the book when he read it two years ago - and wanted to make the movie as soon as possible.
"I love mixing comedy with action and comedic violence. It's a lot of fun. And I think Morrieson was having a lot of fun when he was writing it."
Stutter has been a movie fan ever since he saw Star Wars, and is influenced by everything from the blockbusters of George Lucas and Steven Spielberg, to Alfred Hitchcock and the Coen Brothers (Fargo, Barton Fink, No Country For Old Men).
"But it's not like when I make a film I'm trying to imitate anything. I just go off the script and [think] 'How are we going to stage it?' What I do just comes out of the story.
"I love movies because they give people a good time, and I'm probably more about entertaining people. You know, you're spending your money to come and have fun so we'll do everything we can to entertain you. So in terms of Predicament, that's definitely what it was about because it's funny, it has this New Zealand gothic vibe to it, which is a lot of fun to make as well."
His many films over the years include a vampire movie called Bloodsuckers in the 90s (his first collaboration with Clement), a number of short films (including the excellent Careful With That Axe and Careful With That Power Tool), and feature films Diagnosis Death and Tongan Ninja, a film which also starred Clement. But, he says, Predicament is the first one he's had a decent budget to play with. Although he won't reveal how much it cost - "It was less than Avatar," - the budget was reportedly around $6 million (modest by feature film standards).
"It was the first time I didn't have to pick up the lunch on the way to set," he laughs.
"It's so much easier making a film with funding. It means you can make the movie that's in your head, whereas if you're doing it on your own you quite often have to compromise. A lot of people will say that's all part of the creative process, but sometimes it's just irritating.
"Predicament had to be done on scale, and the great thing that stood out when I read the novel for the first time was it's written with a real confidence, and the movie had to have that too."
Morrieson's detail in the book is impeccable without weighing the story down, and his characters are full of personality, which presented a few problems for Stutter as director and screenwriter when re-telling the story. So he focused on the story of Cedric.
"There is a lot to set up in Predicament to make everything pay off at the end. I loved Cedric as a character, so it was about this guy who basically has no friends and the best thing that could happen to him is if he made friends. But then it's like, 'What if it's the worst thing ever to happen to him?'. It's about how [easily] one wrong step can wind up in a lot of trouble."
Apart from loving the story the first time he read it, he also imagined how great his mate and long-time collaborator Clement would be as Spook. And in the film, Clement - who, as one half of Flight of the Conchords is a master at deadpan delivery - is hilarious.
"What I love about Spook is that in his head he's this genius, and he takes himself really seriously," says Stutter, "and what was good about working with Jemaine is that he is like that with comedy. He takes comedy very seriously and there is no accident about timing, and he thinks that stuff through. And he had so much fun with Spook and he's really having a ball playing a really straight-faced, spooky character."
Stutter also cast two first-time feature film actors in the movie - three if you count Tim Finn's starring role as Cedric's eccentric and mentally ill dad Martin (although Finn also had parts in movies in the 80s).
First up is Frost as Cedric, the gormless teenager who walks with a half run, half shuffle motion, and is viewed as a freaky geek by the rest of the town because his father is building a ramshackle tower in their front yard.
"As much as I don't like to admit it there is a lot of Cedric in me. A lot of his mannerisms, and tics are drawn from my own teenage years," says Frost.
"Predicament is very much about him [Cedric], and how, through rather unfortunate circumstances, he realises who he is and how he fits into the world - and the way he fits in with other people.
"It's really about him discovering things about himself when you're forced to grow up a little bit faster than you'd like to."
Mervyn Toebeck on the other hand is a jolly, larger-than-life, swindler with a sinister side.
Franklin loves his character: "Everyone likes playing a dodgy scumbag. But I wanted to humanise him and make him as likeable as possible, which I guess is what con artists do when they weasel their way into your lives."
Franklin says he learned about Morrieson by osmosis while living in South Taranaki during shooting and believes Mervyn and Cedric are autobiographical characters.
"So maybe Cedric and Mervyn are a bit of a before and after photo of his [Morrieson's] own life."
Another main character in the film was Hawera, and its surrounding area, even though Stutter points out that the town in the film - as it is in the book - is fictional.
"But we wanted to be really true to the novel. You owe it to the person to do the right thing. So while we had to invent some [elements] to make it work as a movie, they all actually come out of the novel. Which is why we shot it in Hawera. You can walk along the trail that he would have walked along when he was dreaming up the book, and you can see a lot of the things he wrote about. I'm hoping, and I think it comes off the screen that you start to get a sense of Ronald Hugh Morrieson's Predicament."
So it seems fitting the premiere will also be in Hawera on August 20.
"We made a lot of friends there and I think it will be fantastic to say, 'Hey, here's the movie we all made'."
LOWDOWN
What: Predicament, a new film based on the novel by Ronald Hugh Morrieson, opens August 26
Starring: Jemaine Clement (Spook); Heath Franklin (Mervyn Toebeck); Hayden Frost (Cedric Williamson); Tim Finn (Martin Williamson); and Rose McIver (Maybelle Zimmerman).
Who: Director Jason Stutter, whose past work includes Tongan Ninja (2002); Diagnosis: Death (2009), and short films Careful With That Axe (2008) and Careful With That Power Tool (2009).
-TimeOut