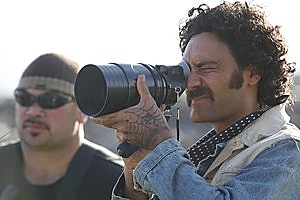 The film finalists for the combined film and television awards have been released, following yesterday's release of the television finalists.
Taika Waititi's Boy leads the nominations with 13, followed by Gaylene Preston's Home By Christmas with 10, Under The Mountain with 7, and The Vitner's Luck with 6.
For the third year, television and film awards will be presented on the same night. The event will take place at the Civic Theatre on Saturday September 18, hosted by Rhys Darby.
TV One will screen an edited version of the ceremony the following night at 10.30pm.
The Finalists... Leave comments below.
Best Feature Film
Boy - Ainsley Gardiner, Whenua Films
Home by Christmas - Gaylene Preston, Sue Rogers & Nigel Hutchinson, Doublehead Films
Under the Mountain - Richard Fletcher, Matthew Grainger & Jonathan King, Redhead Films

Best Director in a Film Feature
Gaylene Preston - Home by Christmas, Doublehead Films
Stephen Sinclair - Russian Snark, Godzone Pictures
Taika Waititi - Boy, Whenua Films

Best Lead Actor in a Feature Film
Tony Barry - Home by Christmas, Doublehead Films
Stephen Papps - Russian Snark, Godzone Pictures
James Rolleston - Boy, Whenua Films

Best Lead Actress in a Feature Film
Alison Bruce - Life's A Riot, Riot Productions
Vera Farmiga - The Vintner's Luck, Ascension Film Ltd
Elena Stejko - Russian Snark, Godzone Pictures

Best Supporting Actor in a Feature Film
Te Aho Eketone-Whitu - Boy, Whenua Films
Sam Neill - Under the Mountain, Redhead Films Limited
Taika Waititi - Boy, Whenua Films

Best Supporting Actress in a Feature Film
Keisha Castle-Hughes - The Vintner's Luck, Ascension Film Ltd
Tina Cleary - Home by Christmas, Doublehead Films
Stephanie Tauevihi - Russian Snark, Godzone Pictures

Best Screenplay for a Feature Film
Dean Parker - Life's A Riot, Riot Productions
Gaylene Preston - Home by Christmas, Doublehead Films
Taika Waititi - Boy, Whenua Films

Best Cinematography in a Feature Film
Alun Bollinger - Home by Christmas, Doublehead Films
Adam Clark - Boy, Whenua Films
Denis Lenoir - The Vintner's Luck, Ascension Film Ltd

Best Editing in a Feature Film
Chris Plummer - Boy, Whenua Films
Ken Sparks - Life's A Riot, Riot Productions
Paul Sutorius - Home by Christmas, Doublehead Films

Best Original Music in a Feature Film
Lukasz Buda, Samuel Scott & Conrad Wedde - Boy, Whenua Films
Victoria Kelly - Under the Mountain, Redhead Films Limited
David Long & Stephen Gallagher - Russian Snark, Godzone Pictures

Best Sound Design in a Feature Film
Tim Prebble, Gethin Creagh & Gilbert Lake - Under the Mountain, Redhead Films Limited
Tim Prebble, Ken Saville, Michael Hedges & Gethin Creagh - Home by Christmas, Doublehead Films
Ken Saville, Tim Prebble, Chris Todd, Michael Hedges & Gilbert Lake - Boy, Whenua Films

Best Production Design in a Feature Film
Ralph Davies - Under the Mountain, Redhead Films Limited
Grant Major - The Vintner's Luck, Ascension Film Ltd
Shayne Radford - Boy, Whenua Films
Best Costume Design in a Feature Film
Leslie Burkes-Harding - Home by Christmas, Doublehead Films
Amanda Neale - Boy, Whenua Films
Beatrix Pasztor - The Vintner's Luck, Ascension Film Ltd

Best Make-Up Design in a Feature Film
Steve Boyle & Jane O'Kane - Under the Mountain, Redhead Films Limited
Angela Mooar - Home by Christmas, Doublehead Films
Dannelle Satherley - Boy, Whenua Films

Best Visual Effects in a Feature Film
Charlie McClellan - Under the Mountain, Redhead Films Limited
Park Road Post - Russian Snark, Godzone Pictures
George Ritchie - The Vintner's Luck, Ascension Film Ltd

Best Short Film
Zoe McIntosh - Day Trip, Lone Pine Film
Sam Peacocke - Manurewa, Robber's Dog Films Ltd
thedownlowconcept - Only Son, thedownlowconcept

Best Performance in a Short Film
Tuhoe Isaac - Day Trip, Lone Pine Film
Aaron McGregor - Choice Night, POP Film
Josh Thomson - Only Son, thedownlowconcept

Best Screenplay for a Short Film
Sam Peacocke - Manurewa, Robber's Dog Films Ltd
Paul Stanley Ward - Choice Night, POP Film
Thedownlowconcept - Ryan Hutchings, Jarrod Holt, Nigel McCulloch - Only Son, thedownlowconcept

Outstanding Technical Contribution to a Short Film
Robert Key - Roof Rattling, Robin Murphy Productions Limited
Ginny Loane - Redemption, Isola Productions Ltd
Gareth Moon, Jodie Stack, Chris Ulutupu & Kate Logan - Day Trip, Lone Pine Film
-Herald Online