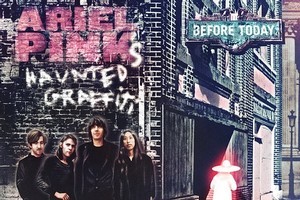 Rating: 5/5
Verdict: Free your mind - a giggle will follow
Hollywood-born quirky guy Ariel Pink went to a real recording studio for this latest project. But he didn't let go of the under-produced sound that defines him - this still has the zany quality of something recorded in a bedroom with the curtains drawn.
Pink, whose real name is Ariel Marcus Rosenberg, has always had a way of turning his hyper-real surroundings - the Hollywood hills, the paparazzi, the clone-like residents - into wacky folk tunes with the oh-so-organic percussion of his mouth and armpits.
He hasn't let a higher quality of this album wear down his trademark kooky, lo-fi sound. It is still an unrestrained fusion of rock/pop and instrumental that sounds like nothing else.
Opening with an obscure little melody that could resemble grumbling Cookie Monsters dancing with aliens at an underground instrumental noise gig, the album moves into the bop-rock of retro radio in Bright Little Skies and then the spaced-out beauty of L'Estat, before monsters mash again under the bruised melodies of Fright Night.
Tunes like Beverly Kills, Butthouse Blondies and Menopause Man throw the sounds of David Bowie, the Bee Gees and Talking Heads together with punk messages - the lyrics are your cue to laugh - and the odd jungle cry.
Yes, the 12 tracks will dazzle your senses with a grand time warp of music's past 40 years before blasting into the future, but as all the wackiness bobs about on waves of palatable pop, it's not out of reach.
- NZ Herald / TimeOut