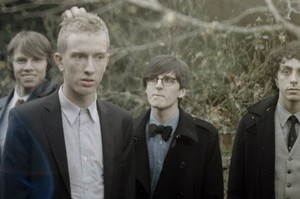 The top five songs have been announced in New Zealand's premier songwriting award - and some past finalists join two new kids on the block.
Both Anika Moa and the Nielson brothers of the Mint Chicks get their third finalist call-up for Running Through the Fire (Storm) and Say Goodbye respectively, while singer/songwriter Julia Deans, who was a finalist in 2000 for Holy off Fur Patrol's Pet, is nominated for A New Dialogue.
However, none of them has won the top prize before. Moa was nominated for Stolen Hill in 2006 and Dream In My Head in 2008, and Kody and Ruban Nielson got the nod for Opium of the People in 2005, with Ruban writing Crazy?Yes!Dumb?No! which was a contender in 2007.
Meanwhile, up-and-comers the Naked and Famous are up for Young Blood, which recently spent two weeks at No. 1, and rounding out the five are young Auckland quartet Artisan Guns with Autumn.
The five songs were chosen by the members of APRA - made up of more than 7000 songwriters, composers, and music publishers - and the winner will be announced at an awards ceremony on September 8 at the Auckland Town Hall. On awards night, each song is performed by a different artist or band who will interpret the song however they like.
Young Blood - The Naked and Famous
What: Epic electro pop anthem that went straight to No.1.
Written by: Aaron Short, Alisa Xayalith and Thom Powers
Released as: A single in May, and on forthcoming debut album, Passive Me, Aggressive You, in September.
First line: "We're only young and naive still, we require certain skills"
Sample lyric: "Fall back in love eventually, yeah yeah yeah yeah"
Who would you like to cover your song?: Frightened Rabbit [rock band from Scotland]
Say Goodbye - The Mint Chicks
What: Not so jumped-up, and more like a 60s girl group-meets-bratty 90s Brit pop
Written by: Kody and Ruban Nielson
Released on: The Bad Buzz EP, February, 2010
First line: "It's the end of what I thought we'd be ..."
Sample lyric: "I could throw stones at your window/Close the curtains/Find the words to say/Say goodbye"
Who would you like to cover your song?: Bic and Boh Runga
A New Dialogue - Julia Deans
What: A lovely meandering tune with a strong and cutting refrain
Written by: Julia Deans
Released as: A single last November, and on album, Modern Fables, out now
First line: "Why won't you take me out I am more than willing to leave."
Sample lyric: "Don't talk to me like I'm one of your cynical peers, talk to me like a lover."
Who would you like to cover your song?: Chris Knox? Anika Moa? Chris Matthews [Headless Chickens]? Fat Freddys? No, Ladi6
Running through the Fire (Storm) - Anika Moa
What: The 80s pop influence takes hold and Moa is like a modern day Sharon O'Neill or Pat Benatar
Written by: Anika Moa
Released as: A single in March, and on album Love In Motion
First line: "Running through the fire, running through the sand."
Sample lyric: "These are the days when love is unkind ..."
Who would you like to cover your song?: Shihad
Autumn - Artisan Guns
What: It starts quietly, begins to smoulder, and then escalates into something big, loud, and beautiful
Written by: Matthew Hope, Jonathan Pearce, Reuben Stephens, and Alexander Freer
Released on: Bird & Bone EP, October, 2009.
First line: "The naked autumn trees, loom closer with the breeze ..."
Sample lyric: "They [the stars] stay neighbours to the moon, and that old familiar tune, of the insects and the cats that had gone astray."
Who would you like to cover your song?: Burt Bacharach
*The Silver Scrolls to be held on September 8 at the Auckland Town Hall