After a bout of London loneliness, some of our best solo indie songwriters have jumped into bed together to record an album. Three members of the group talk to Scott Kara.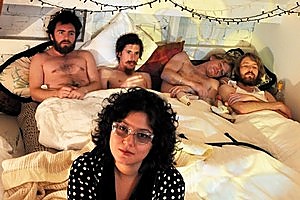 Barb is New Zealand's very own supergroup. Well, sort of, because the band's three core members - Liam Finn and fellow musical troubadours Connan Mockasin and James Milne (aka Lawrence Arabia) - don't think of it like that.
"In a small-time New Zealand way it is I guess," jokes Finn modestly.
But even if they downplay it, it is a supergroup, given Finn's family pedigree and musical output, Mockasin's cult status and excellent yet mostly unheralded last album, Please Turn Me Into the Snat, and then there's Milne's critical acclaim that in the last year has seen him pick up the Silver Scroll for best song (Apple Pie Bed), and its album equivalent, the Taite Prize, for Lawrence Arabia's Chant Darling.
Barb, if you like, are New Zealand's slightly unkempt Traveling Wilburys-type cult indie-pop supergroup.
They're also hard to get hold of since they are scattered around the world. TimeOut talked to Finn, Milne and Mockasin separately on the phone this week ahead of the release of Barb, a predictably trippy, catchy, and sometimes peculiar pop album which is out on August 6.
Finn was in New York taking it easy after a big night out following his father Neil's band Crowded House's first night performance at the Bowery Ballroom ("They are playing amazingly. It's like a psychedelic experience."); Milne was in a cab on his way to a soundcheck at the Bowery because he's supporting Crowded House; and Mockasin was in London, his home away from home.
The idea for Barb first came about in London. All three were living there from about 2005 onwards and became a support network for each other because, apart from the Datsuns, they were the only New Zealand musicians there at the time. So they hung out at each others' houses in Shoreditch, went to each others' shows, and played in each others' bands from time to time.
"Most people who play music in New Zealand end up being friends," says Milne, "but we became friends living in London so it was probably an isolation thing, and we really liked each others' music."
Finn: "I'd always loved what Lawrence Arabia does, and what Connan does has always blown my mind, so there's no better way to start a band than with people you really admire."
As well as a mutual appreciation for music it's a shared sense of humour, and to be able to hang out and have a laugh, that adds to the chemistry between these musical mates.
Their humour is deadbeat, a little kooky, and it comes through on songs like Leo - about a 4-year-old's obsession with Leonardo DiCaprio - who is "such a fancy actor", or being fed up with "the rugby players' lies, and their wives dancing for charity" on Looking Out Through the Eyes of Barb.
"I think a lot of people's favourite best friends are the ones they can just kill time with talking crap basically and [during recording] there was a lot more hanging out and laughing and looking on the internet than there was making of music," remembers Finn with a laugh.
"It wasn't very serious or anything," reckons Mockasin, "and it never is anyway. There's no point in being too serious."
"We all knew we wanted to have fun making it," adds Finn, "but we also didn't want it to come out as just a vanity-type project."
Barb also includes long-time Finn collaborator and singer EJ Barnes, and drummer Seamus Ebbs, who was in Mockasin's band until they split up a few years ago. They all played together for the first time on a couple of songs that ended up on Finn's debut solo album I'll Be Lightning from 2007.
"That was the end of 2006," says Milne, "so we'd done stuff like that, and had been aware that it would be pretty enjoyable to do things together. But it took three or so years for us all to be in the same place at the same time and actually do something."
They all ended up back in New Zealand at the end of last year, booked four weeks at Neil Finn's Roundhead Studios "on the grim slopes of Newton", and got to it.
"So it was one of those classic stories of people in bands becoming friends and wanting to play together for a long time," says Finn.
They wrote the majority of the songs off the cuff, and recorded everything, from the most waffly jam through to final takes of songs.
"We kind of just tried to find the sound that came from all of us jamming, which at the time was quite confronting because at times we were trying to be kind of sexy, almost funky kind of stuff, and we were like, 'Oh man, is this what we actually all gravitate towards?' But I think somewhere in there we found our sound."
That sound moves from the madness of Beatman ("That was just a jam. I really liked how it had that African feel, and I think it's the most interesting song for me to listen to," says Mockasin.); to the rousing ebb and shuffle of Alcoholic Darling, on which these three white boys show they are pretty funky, albeit with their own whimsical and spectral take on it; and then there's the schoolyard bash and chant of Not A Bird.
There's also a sensual, and slightly mischievous mood to songs like 2004 that Milne says started out as an instrumental groove "that we didn't know how to finish".
"It was almost sexy sounding, and we were trying all these stupid ironic erotic things, like groaning noises, and it was going to come across as dumb smart-arse white kids making funk music."
So Milne decided to take the song and write a beautiful melody for Barnes to sing.
"So I guess it's kind of a lesbian love song, and I think it's quite sweet."
There are also more plaintive moments with Time To Contemplate, a song that Finn and Milne started writing four years ago.
"I hadn't seen James and his partner for ages and we had a real nice day hanging out, and it was the first time he and I had ever written songs together. That entire song was written in about an hour that day. We never recorded [it], but we always remembered."
And Milne's Looking Out Through the Eyes of Barb - the last song on the album - is one of the most serious songs he's ever written. "It's about depression," he says, "but I don't really want to equate that with the band, because if I was looking out through Barb's eyes, or the band's eyes, I think it's a pretty joyful view."
LOWDOWN
Who: Barb
What: Psychedelic Kiwi indie pop supergroup made up of Liam Finn, James Milne (aka Lawrence Arabia), Connan Mockasin, singer EJ Barnes, and drummer Seamus Ebbs
Debut album: Barb, out August 6
Trivia: The name Barb has many meanings. According to the band, not only is it a great word but it also conjures up images of Pamela Anderson, and even your ugly Auntie Barb as depicted in Connan Mockasin's sketches in the album's artwork.