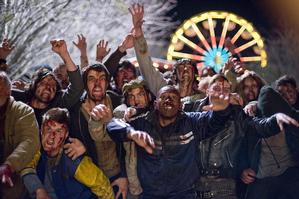 Cinemas are about to be invaded by legions of shambling, catatonic, bug-eyed creatures. Fortunately, most will be on-screen.
The zombie film, long thought dead and rotting in television's graveyard slots, has been reanimated.
More than 50 zombie films - from low-budget schlock such as Spring Break Zombie Cruise to big-budget schlock such as Resident Evil: After Life, directed by Paul Anderson and starring Milla Jovovich - are scheduled for release in the coming year; leaving the trend for vampires and werewolves in the shade.
There are comedy zombies, such as I Spit on Your Rave , which stars The Mighty Boosh's Noel Fielding; sci-fi zombies in Astro Zombie 3D and even cartoon zombies in a film called A.D.
George A. Romero, the "godfather" of the zombie genre, whose 1968 film Night of the Living Dead is credited with kickstarting the zombie myth in popular culture, returned earlier this year with Survival of the Dead and a remake of The Crazies, which he produced.
Film critic Colin Odell says the genre's popularity is perhaps a reflection of people's growing disconnection from other people, caused by MP3 players and smartphones.
"The romantic vampire film is very bourgeois, with its affluent characters," he says. "Zombies are more about the fear of the masses. With our iPods and mobile phones, we are disconnected from the other people around us and zombie films tap into this sense of alienation and isolation."
Zombie expert Professor Jim Kendrick, of Baylor University in Texas, states that before Romero reanimated corpses, zombies were traditionally living people put under a spell.
"It is Romero who came up with the idea of the resurrected corpse," he says. "Zombie films are popular because they're easy and cheap to make - all you need are lots of people to lumber around and some make-up. Also they're hugely popular among horror fans, perhaps as vampires and werewolves have been co-opted by the mainstream.
"Vampires have been made human and sexy in films such as Twilight. You can't really do that with a zombie, so they have been embraced by the horror community because they're more 'pure'."
He adds that zombies are also "malleable" - they can be played for laughs as in films such as Shaun of the Dead, written by and starring Simon Pegg, or last year's Zombieland, which starred Woody Harrelson, or made harder to emphasise shock and gore.
Alan Jones, organiser of the annual Frightfest horror film festival, which takes place in the UK every August, says the horror fan community is alive with debate over the current craze for zombies.
- INDEPENDENT