Rating: 3/5
Verdict: Classy but verging on cuteness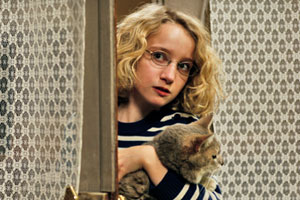 The source novel for this film, The Elegance of the Hedgehog, by Moroccan-born French novelist and philosopher Muriel Barbery, was a spectacular hit in France, topping the best-seller list for two years. But even with warm reviews, it struggled in English-speaking markets: its ruminative, philosophical tone is better suited to the temperament of the French, who see philosophy as a mainstream pursuit - there's a punchline reference to Roland Barthes in book and film which eluded me but which French audiences would have taken in their stride. What's more, the French national discourse confronts the idea of social class in a way audiences in Britain and the United States (and here) find uncomfortable.
Perhaps inevitably, the film skates over the novel's subtleties and, as a result, is slightly unsatisfactory. Its appeal may rather depend on your tolerance for irrepressible 11-year-old girls.
One such is Paloma (Garance Le Guillermic), whose precocious ennui derives both from the isolation of her haut-bourgeois life in one of Paris' more upscale arrondissements and the fact that her parents (a neurotic, snobbish mother who lives on champagne and valium; a workaholic politician father) scarcely know she exists.
She compensates by living life through the viewfinder of her digicam and planning her suicide on her fast-approaching 12th birthday.
But she is forced to re-evaluate things when she befriends Renee Michel (Josiane Balasko), the frumpy, grumpy concierge in her apartment building. Refusing to conform to appearances or type, this woman has a huge library and a passion for Tolstoy. She's also prickly and unapproachable: hence the title's metaphor.
Paloma's jaunty nihilism might have become irritating, but for the arrival of a new tenant, the courtly, cultured Kakuro Ozu (Togo Igawa), a well-to-do Japanese man who manages to get beneath Renee Michel's exterior by the simplest of means. As their relationship blooms, the youngster (just in time) steps aside and becomes our point of view.
Director Achache, who has described herself as fascinated by "the magic of improbable encounters", has an assured command of tone and gets three pitch-perfect performances from her principals. But the studied winsomeness of the whole thing is at times hard to distinguish from sentimental cuteness.
Cast: Josiane Balasko, Garance Le Guillermic, Togo Igawa, Anne Brochet, Ariane Ascaride
Director: Mona Achache
Running time: 100 mins
Rating: M. In French with English subtitles