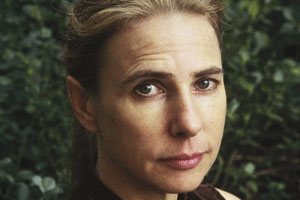 The stern publicity photos of Lionel Shriver don't do her justice. She is more severe in real life.
It is partly to do with her personality (though polite, she would not be confused with a ray of sunshine); partly her appearance (she is a trim 52-year-old, with scraped-back hair, intense eyebrows and erect posture); and partly her low voice. She is wearing gloves because she has Reynaud's disease, which causes poor circulation.
To the curiosity of many, she also wore them when she won the Orange Prize in 2005. That was for her tense, thought-provoking novel We Need To Talk About Kevin, that went on to sell around about a million copies worldwide.
Although she has lived in the UK for 23 years, her novels are almost always set in the United States, where she grew up. Kevin, as she calls her best-known novel, was about a Columbine-style high school killing spree. It proved disturbingly timely, as several copycat cases emerged. Her new novel, about the health-care crisis in America, seems equally timely.
So Much For That is the story of a man who dreams of starting a new life on a small island off the coast of Africa. When his wife is diagnosed with cancer, he realises that he has to stay working in the US to keep up his health-care plan.
"It was conceived pre-Obama," Shriver says.
"He was not a serious candidate at the time I began writing and healthcare reform was not on the national agenda at all."
The book is getting rave reviews in the US, which isn't always the case with her work.
"A review couldn't be more personal," Shriver says.
"Someone passing comment on two years' work in which you are invested emotionally. Any novelist has to gird themselves for heartache. Reviews can really hurt your feelings. You ignore the compliments and take to heart the criticisms."
Kevin was the first of Shriver's books to have mass appeal after seven previous novels were greeted with more or less indifference. Success, however, hasn't changed her life completely.
"It doesn't get me out of running when I don't feel like it," she points out.
"Doesn't solve any marital problems I might have. Doesn't bring my older brother back to life [he died from illnesses related to his obesity]. Literary success only pertains to a slice of your life. It's not really going to make you happy. Happier perhaps."
Shriver has no problem recalling the days when literary success eluded her.
"I do try and remember what it was like writing books in the void, back when I had to worry about whether they were even going to see print. That was not a good place. I feel I not only narrowly escaped obscurity, but also having to give up writing novels altogether, which would have broken my heart."
Shriver wanted to be a writer from age 7. She used to write long, introspective journal entries.
"Now I feel I have exhausted myself as subject matter. But that's okay. It frees me up to be interested in other people."
Shriver was born and raised in North Carolina, the daughter of a Presbyterian minister, and her childhood was marked by family prayers and Bible readings. When she announced at 12 that she wasn't going to church anymore her father dragged her into the car by her hair.
"My father is a professional ethicist," she says now.
"So I come from a very moral background. But I also have a rebellious streak a mile wide and admire people who get away with things."
At 15 she changed her name - from Margaret Ann to Lionel. The reason? She was a tomboy with an older and younger brother.
"My parents made fun of me. They thought it was a phase I was going through. I'm still in the phase."
Shriver was married briefly in her 20s, to someone she met at Columbia University. She is now married to jazz drummer Jeff Williams. The couple don't have children.
Shriver decided at the tender age of 8 that motherhood was not for her. This decision was partly based upon her own mother's ambivalence towards children, a theme revisited in Kevin.
Once she'd finished the book she realised that, "if that's what I think of when I imagine motherhood, then it's probably not for me".
The protagonist in her new novel explores an equally uncomfortable thought: "Maybe we never really know someone until they're dying."
The catalyst for the story was the death from cancer of one of Shriver's closest friends.
"Then I came across an article about the number of people in America going bankrupt paying their medical bills, even though they had insurance, and I thought that was the narrative intersection I needed."
Because her friend was a contemporary, it gave her death added poignancy.
"It bit on more than one level because it was also sobering on my own account. It is sobering when it is people your own age. From childhood we think the old people are going to die, then you look in the mirror and you are the old people."
Even with the success of Kevin, Shriver never allows herself to become over-confident about her writing.
"I'm never sure I'm going to pull if off. I'm anxious all the time when I'm writing. But then complacency kills a lot of writers. They end up imitating themselves. I never trust a book until the last line is written."
Astonishingly, 30 publishers rejected Kevin before it found a home, perhaps because she had already published seven novels that, while garnering good reviews, had not made their mark in terms of sales.
"If you haven't established yourself it is a crapshoot. You could submit War and Peace and the rejection slip might say: 'It is too long and shouldn't be set in Russia'," she says.
Her agent at the time hated Kevin, so they parted. Another complication was that Shriver's husband is her agent's ex-husband (they got together after the agent and he separated).
Does the agent wince whenever she sees Kevin in a bookshop?
"Yeah, she hates me personally, too. She hates being wrong. It makes her look bad that she didn't recognise that book and capitalise on it."
*Lionel Shriver is appearing at the Auckland Readers & Writers Festival 12-16 May. See writersfestival.co.nz for the full programme.
- The Sunday Telegraph