Readers of today's Herald TimeOut section can download a copy of Anika Moa's song Running Through the Fire (Storm) by entering the code word published on TimeOut's back cover. Click here to download your copy.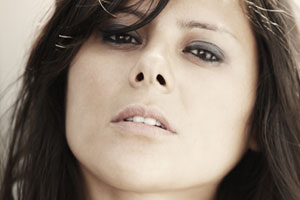 You don't mind if I floss do you?" asks cheeky songstress Anika Moa.
"I've got a food thing at the moment, every time I eat I have to floss. It's awful," she smiles as she fishes out some dental ribbon from her bag.
Go ahead and floss girl, after all, you can't talk about songs of love - and hate - with sushi stuck in your teeth.
Moa's new album, Love In Motion, is about love on all levels, from friends and whanau to the true love she's found with burlesque performer Azaria Universe, who she married in a civil union ceremony in February.
"Love is the only thing I know," says Moa.
"There are so many aspects to it. It's about people you loved in the past. Family members you love. And people you love with all your heart now."
Although, she admits, listen a little deeper to the album and there are equal amounts of love and hate.
"Two Hearts is about my ex-girlfriend who really f***** me off," she grins in her trademark, hard-case little Maori girl way.
"Secrets and Lies is about someone who f***** me off and Blame It On the Rain is a song about someone who I will never ever name because they will be really, really sad if they knew. So it's actually half and half."
The dulcet yet accusatory refrain of Secrets and Lies is her favourite song on the album even though she feels guilty for writing it.
"I wrote it in a really bad mood but it's still a really, really beautiful song. But the words are scathing. Whoopsies. But I hope they forgive me some day."
There are no airs and graces with Moa. And even though sometimes you can't tell if she's pulling your leg, what you see is what you get.
However, on her fourth album a powerful and resolute voice has emerged which she reckons comes from being "loved by someone".
"I'm just stronger because my wife is just beautiful and she treats me really well."
Moa is so in love that Love In Motion will be her last album - for a while at least - because "I'm bored of it and I want to have babies".
"I could be like Dave Dobbyn and release 20 albums and do winery tours for the rest of my life," she jokes, "but I'm just going to give it a break, have some kids, and live my life with my wife. It's a good way to sell a tour too - saying it's your last show," she hoots.
It's fitting then that Love In Motion is her most rock'n'roll album to date with her band - made up of Goldenhorse guitarist Geoff Maddock ("A melodic guitar genius") and drummer Nick Gaffaney and bass player Chip Matthews ("They are just my solid ground.") - giving songs like first single Running For the Fire extra electric grunt.
And it seems after 12 years in the business, Anika Moa is going out in a blaze of glory.
The 29-year-old's story about getting hauled through the music industry mill has been well-documented.
You know the story, back in 2000 she became the first New Zealand act to sign directly to a major international record label before making a name for herself at home first. The deal never worked out, which was a huge relief because she never wanted it anyway, and today she reflects how all she ever wanted back then was write songs. Simple.
"All I wanted was for my record company not to over-hype me. But they did. My strong following has come 12 years later," she continues.
"The following I had at the start was just all the hype. I call it the Hollie Smith hype because that is all the shit she's had to deal with after all the hype she had signing to a major record label.
"Hype is a really good marketing tool, but it's not good for the artist, because it's them who suffer at the end of the day."
Still, the catchy and coy songs on 2001 debut Thinking Room made it a fledgling hit, next album Stolen Hill was rebellious in its simplicity and quaintness, and with 2007's last album In Swings The Tide she stamped her mark on the local music scene with songs like Dreams In My Head and My Old Man, and her singer-songwriter-meets-stand-up-comedy performances.
"I've always had this thing where I'm not like the Black Seeds, that I can't get people up dancing. So I've always been like, 'What else can I give them? I'm funny, but I'm a dick.' So I'll give them that, because as well as the music they've got to be entertained. And if you're real and talk about how saggy your boobs are people love it. Yeah, I'm an entertainer alright. Like the Topp Twins, except I don't have a twin sister who's gay."
On tour she meets her "true fans", like the "crazy West Coast bumpkins from Hokitika" through to the wives who drag their husbands along.
"The husbands are always the ones drinking at the back and they're the ones I give the most shit to."
Her tours are successful and she sells a "reasonable" amount of albums, with In Swings the Tide selling more than 20,000 copies. So she is doing okay.
"[In Swings the Tide] made me stand up and think I am awesome because I had too many years of feeling depressed and a loser and thinking about what do I have to give to the New Zealand music industry? Now, [with Love In Motion] I know what I have to give, and that's good songs and good albums.
"It's the only job I love," she continues. "I'd hate to have a job I didn't love. I'm really good at it, too. I write really good songs. I'm really proud of myself, proud of what I've achieved, and that's my life."
Until she starts having babies, at least.
LOWDOWN
Who: Anika Moa
What: Love In Motion, new album out Monday
Past albums: Thinking Room (2001); Stolen Hill (2005); In Swings the Tide (2007)