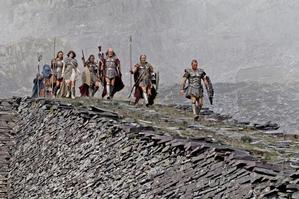 Ancient mythology? It's all Greek to Sam Worthington.
He may be playing Greek demigod Perseus in Clash of the Titans, the latest boulder of a seeming pop culture avalanche from the slopes of Mt Olympus - one which comes with computer-generated monsters and 3D effects - but don't expect the Australian Avatar star to defend Titan for being faithful to the ancient legend.
"My brain looked at it as: this isn't a history lesson," he says on the phone from Sydney. "It's a fun romp of a movie, a bit like an Indiana Jones movie. That's what we wanted to do - keep it buoyant and fresh. It's me in a dress with a rubber sword killing monsters. It's a lot of fun. The audience should not take it too seriously, get their 16 bucks worth and have a great ride."
It's a remake of the 1981 film of the same name. This one is by Louis Leterrier, the French director of 2008's The Incredible Hulk as well as the adrenalised action flicks Transporter and Transporter 2.
"He knows how to throw a camera around," says Worthington of his director. "Most big movies like to have action set pieces but Louis doesn't work that way. He doesn't let up, he goes from one battle to another battle to another battle and all through that comes the emotion. That is what Louis is good at, keeping the train running."
The film was mainly shot in British studios, the Canary Islands and - to Worthington's dismay - an old Welsh slate quarry.
"That sucked. I hated that. The rain goes up in that country. And slate is meant to have a negative impact as a mineral. So it was like the most depressing suicidal time in my life. It's meant to be the entrance to the underworld. It sure as hell is, I tell ya."
The original film marked the end of an era - it was the final visual effects outing by the master of stop-motion creatures, Ray Harryhausen.
Monsters like the Kraken aside, it also had quite a human cast - Laurence Oliver as Zeus, Maggie Smith as Thetis, Ursula Andress as Aphrodite and a pre-LA Law Harry Hamlin as Perseus.
It proved a box office hit if not exactly an enduring classic, like, say, Harryhausen's Jason & the Argonauts ...
"But that's the thing," says Worthington. "That is so good, why remake it? That is the thing about remakes, if the old one stands up, don't remake it.
"I think this one with the visual effects we have nowadays is the perfect one to pick ...".
Well, Worthington effectively replaced Arnold Schwarzenegger in last year's Terminator Salvation. Now he's stepping into Hamlin's sandals, though without his haircut of the gods - the mullet.
"Yeah, 80s heroes watch out ... We tried to distance ourselves from the original in any subtle way we could and if I had long, flowing locks - and there are a lot of sword and sandal epics where everyone has long flowing locks - I just wanted to have a different, modern look."
A son of Zeus but raised as a mortal man, Perseus of the film is compelled to head into the underworld to defeat Hades who has designs on a takeover of Mt Olympia which would make things very bad for mankind.
Perseus's inner conflict about his demigod status is another of the ways the new film differs from the original and Worthington thinks it sends a better message to its young audience, like his 9-year-old nephew, Ridley.
"If you look at the original, some of the themes in it are a bit odd. This whole thing of 'you can do anything if you accept being a god' - I thought was a bit bad for my nephew. He can only succeed if he's part god? So we really hammered home this thing that he is a man and he can do anything he wants as a man if he looks deep inside and has the help of other strong-willed men. I thought 'he's a 9-year-old kid. That's a good message'."
The pre-teens have already had a recent Greek mythology lesson of sorts with the Perseus-themed Percy Jackson and the Lightning Thief. Gamers have had the Perseus-like Kratos swinging his way through the God of War series in the last five years, with the final instalment due for release just as Titans hits the screen (the movie will have its own game).
There's been plenty more ancient Greece - or Rome, or Sparta - coming to the small and big screen in the past three years.
The 2007 success of Spartan war film 300 - which has a prequel in the works - surely begat Clash of the Titans as well as the New Zealand-filmed X-rated TV series Spartacus: Blood and Sand, starring Lucy Lawless.
Frank Miller, the creator of the graphic novel on which 300 was closely based told the Los Angeles Times he wasn't surprised by the revival in interest. "Every generation returns to ancient Greece because, well, the stories are so damn good."
"The fact and the myth are inseparable and, believe me, when you go sailing for a while in the Aegean Sea, you start believing in Poseidon."
Worthington thinks his Perseus will have it all over Percy.
"That was good and tame but we are taking on scorpions the size of dumptrucks. It's a big bunch of boys. We are a boisterous bunch - how many more Bs can I put into that [expletive] sentence?", he laughs.
How about another letter? Now he's been in two does he prefer acting in 3D or 2D?
"Aah any D. 3D, 2D, DVD. It doesn't matter. If the story holds up, none of those things matter."
After Avatar and Terminator Salvation, this is Worthington's first movie without a James Cameron connection and the first to test his new-found marquee value. It also means he's been in three major blockbusters in less than a year.
"I don't want to over-saturate the market and have people get sick of me but people normally work 11 to 12 months of the year anyway on normal jobs, so why shouldn't I? That gives you a body of work and it's all about learning." Even if the main thing he picked up from Titans was how to swing a sword and run in sandals - though not the winged ones of myth.
"We didn't use the winged sandals. We took a few liberties. We've got sandals but they are more Nikes. They are like Nikes with painted toes on them. From a distance it made it look like I had very long toes. But it meant I could run away from Medusa. It's pretty hard to do with sandals on, man. I said give me a pair of Nikes. Nike is a Greek god anyway."
And Worthington laughs that being a Sydneysider helped his interpretation of a Greek hero.
"I have a Greek girlfriend. That's about as close as I get. But there is a place here called Marrickville [the centre of Sydney's Hellenic community]. My Perseus is Greek via Marrickville."
Lowdown
Who: Sam Worthington, rollercoaster-riding Australian star who appeared in last year's Avatar and Terminator Salvation.
What: Clash of the Titans, also starring Liam Neeson and Ralph Fiennes
When: Opens at in cinemas on 3D and conventional screens on April 1
Movie Myth vs Game God
The lead characters in the Titans movie and the God of War videogame series have much in common. Even the movie's star Sam Worthtingon says: I look a bit like Kratos don't I?" And when that Kraken comes out at the end [of the movie] that is a bit like a video game.
So here's a breakdown on how the two heroes of the ancient world line up ...
Perseus of Clash of the Titans
Who: Son of Zeus, slayer of Medusa
Former job before demigod status: Fisherman
Favoured footwear: Winged sandals, but possibly not in the movie because they might look silly.
Favoured weapon: A curved sword, a highly polished bronze shield (a gift from Athena) and a helmet of invisibility
Aerial mode of transport: Pegasus, the winged horse.
Back story: In the movie he's on a quest to avenge the death of his family at the hands of Hades, god of the underworld who wishes to topple Zeus. In myth, Perseus was the grandson of King Acrisius, for whom it had been prophesised he would one day be killed by his daughter's son. Acrisius cast his daughter and grandson into the sea in a wooden chest, but they survived the ordeal and washed ashore on the island of Seriphos where they started a new life until its King Polydectes demanded Perseus bring him the head of Medusa.
Personal demons: Not too sure about having one sandal in the human world and the other in the realm of the gods.
Previous incarnations: Harry Hamlin played him in the 1981 version. He's also featured in a few operas too including Persee and Persee et Andromede. And Percy Jackson of Percy Jackson and the Lightning Thief's real name was ...
Kratos of God of War
Who: Ghost of Sparta, God of War and, as it turns out, son of Zeus
Former job before demigod status: Captain in the Spartan army
Favoured footwear: Boots of Hermes. No, not the French fashion house but the messenger of the gods.
Aerial mode of transport: The Wings of Icarus
Favoured weapon: Blades of Chaos, Blades of Athena, Blades of Olympus, Blades of Exile ... anything with blade in it really. Attached to his arms by chains. Mostly gifts from Athena.
Back story: On a quest to avenge the death of his family at the hands of the gods - they tricked him into it. After offering his soul to Ares, the god of war, to ensure a Spartan military victory, Kratos becomes a servant of the gods but is duped into murdering his own family. He eventually kill Ares and takes over his god of war job, only to fall out with Zeus, who he discovers is his father. The scene is set for a final showdown ...
Personal demons: Killing his family has made him a guilt-ridden, vengeful, murder machine
Previous incarnations: The various God of War games, all with Kratos voiced by Terrence "TC" Carson who substituted for Samuel L. Jackson as the Mace Windu character in the animated series of Star Wars: The Clone Wars.