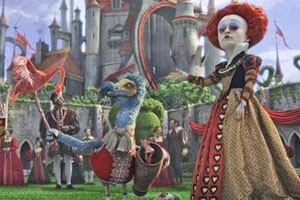 As the star and director of Alice in Wonderland, Helena Bonham Carter and Tim Burton must be one of cinema's odd couples. Indeed, despite growing up in the shadow of Hollywood in nearby Burbank, the eccentric auteur behind such offbeat classics as Peewee's Big Adventure and Beetlejuice feels much more at home in the leafy streets of Hampstead, London, than he does in the scorching boulevards of his native California.
"I had to escape from Los Angeles," says Burton when I meet him and Bonham Carter at London's ultra-plush Dorchester hotel. "It's weird but I always felt like a foreigner in my own country." "The whole point of Tim is that he was born in the wrong place," adds Bonham Carter. "He's always said that he was meant to be here. Edward Scissorhands is totally about that, being an outsider in LA. It never suited him. He prefers the weather here and actually likes the rain. London suits him, with the Gothic Victorian architecture and all the hills. He doesn't like the sun, as you can tell from his pallor. And he loves working with British crews and he's always done that since Batman in 1989. They should knight him. Sir Tim Burton! Don't you think he'd look handsome with all his knight gear on?"
The pair met in 2001 on the set of Burton's re-imagining of Planet of the Apes. Since then Bonham Carter has appeared in all six of Burton's subsequent films. In the 2005 adaptation of Roald Dahl's children's favourite Charlie and the Chocolate Factory she played the mother of Golden Ticket winner Charlie Bucket, while in 2007's Sweeney Todd she was the Demon Butcher's partner-in-crime.
However, Alice in Wonderland could be her most outlandish part to date as she takes on the literally larger-than-life role of the Red Queen.
"Tim first showed me a sketch of what I'd look like and it was this angry woman with a big head, although she definitely had my eyebrows," she laughs. "It was funny. There were also a lot of physical mock-ups of me looking about 70-years-old because there was a lot of playing around with my look. "I do like the end product but it was a bit of a shock when Tim asked me if I wanted to play the Red Queen. My agent said 'the White Queen is described as small, delicate and pretty' so why has he asked you to play this big-headed person? But I like changing what I look like and with CGI and special effects they can do anything to you."
Bonham Carter believes that scriptwriter Linda Woolverton (The Lion King) has added a great logic to her character. "She's jealous of everybody else's head and that's why she keeps chopping them all off," the star explains. "She's got a huge head because there's a tumour growing inside. She's obviously got emotional problems. I said that she stopped growing at a certain point and it struck me that she was like a 2-year-old as she is always having tantrums. She is a tyrant and Tim compared her to Bette Davis playing Elizabeth I. I also thought some blue eye shadow would make her look rather trashy."
Rather than simply adapting Alice in Wonderland, Woolverton has taken elements from Lewis Carroll's classic 1865 novel and its 1872 sequel Through the Looking Glass to create a brand new story. Set around a decade after her original adventures, 19-year-old Alice (Canberra-born Mia Wasikowska) returns to the fantastical underworld, where she once again encounters such endearingly surreal characters as the Mad Hatter (Johnny Depp with an off-kilter Scottish accent), the Cheshire Cat and Tweedle Dum and Tweedle Dee (voiced respectively by Michael Sheen and Matt Lucas).
In shades of C.S. Lewis' Chronicles of Narnia, Alice eventually dons a suit of armour as she combats the ferocious Jabberwocky in a bid to save the free spirited White Queen (a frosty Anne Hathaway) from the clutches of her black-hearted sister.
"There's been around 20 other versions of Alice and they all suffer from the same problem, in that they are too literal to the book," says Burton. "But what works in a book ends up on screen as seeming like an obnoxious child wandering around with a bunch of weirdos. "This script takes the world and characters of Lewis Carroll but sets it in the context of the effect that his work has had on us. It's become so ingrained in pop culture. I knew more about Alice from listening to bands and from writers and illustrators incorporating it into their own work. I like what Linda did in terms of structuring it, giving it a kind of narrative base. She gave it a quiet gravity that the other versions didn't have"
Burton has claimed that his main motivation for taking up Disney's offer to helm the film was the chance to work with 3D technology. However, you have to wonder whether the film's thunder has been stolen by Avatar which, since its release at Christmas, has quickly become the highest grossing film in cinematic history. But unlike James Cameron's epic extravaganza, Alice in Wonderland was shot in traditional 2D with the enhanced effects being grafted on during post-production.
"We weren't making Avatar and we didn't do motion capture," he says, somewhat testily. "People have said 'why didn't you shoot in 3D?' but there wasn't much to shoot in 3D. I'd done the process before on Nightmare Before Christmas and it looked beautiful," he continues, referring to his 1993 stop-motion classic, which was later re-released in 3D.
"A lot of that talk comes from people who are promoting 3D cameras and want me to rent them. You will see some really bad 3D films over the next few months because Hollywood has a tendency to hold back and then go '3D, oh my God'. But you'll also see some great stuff because it's a great tool. If you like movies, it's just another way to get in there."
But even if Alice in Wonderland is a hit at the box office, Burton is unlikely to return to direct a Through The Looking Glass film. "When you finish a movie, you never want to make another movie again," he laughs. "I'm at that stage right now."
However, Bonham Carter would happily reprise the part of the dastardly Red Queen. But after resuming her role as the villainous Bellatrix Lestrange in Harry Potter and the Deathly Hallows, she will take on a member of a real royal family, playing the late Queen Mother Elizabeth Bowes-Lyon alongside Colin Firth's George VI in the upcoming The King's Speech.
"There's a bit more pressure there because she was so beloved and famous," says Bonham Carter, who met Prince Charles and Camilla at Alice in Wonderland's world premiere in London.
"While we were watching it, we were thinking `it's funny that they're here because it's so much about royalty and hierarchy," she laughs. "But they really enjoyed it and were laughing a lot. In the reception line afterwards, I was saying to Johnny that it must be really boring for them because of the whole stupid protocol of them having to ask you questions. "They asked me about Harry Potter but I changed the subject and said 'actually, I'm playing your grandmother' and then he was interested."
Alice In Wonderland is out now in cinemas.