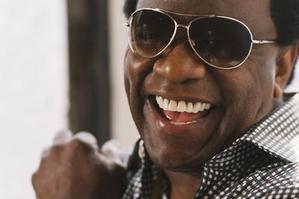 An interview with the Reverend Al Green is as much about being serenaded as it is about talking to the soul man.
During the course of TimeOut's chat with Green he sings a wailing snippet from 1974's Take Me To the River; his classic 1971 single Let's Stay Together gets a couple of airing and the lovely opening line, "Spending my day, thinkin' 'bout you girl," from 1972's I'm Still In Love With You is the highlight of this private mini concert.
It seems singing his songs is Green's favourite way of explaining them.
"I think it's only fair that people get to know and see and hear the whole person," he laughs in that smooth, slightly husky voice of his, down the phone from Memphis, Tennessee.
Not that the 63-year-old is against talking about his many songs.
"So much of this music reflects the actual life of the person. It's really kinda personal," he says smugly. "My old lady says, 'Could you stop putting our business on the record.
Be quiet about it Al'," he says, chuckling.
And then there's a song like Take Me To the River, originally a soul-searching tune at a time when Green felt he needed some stability in his life.
"But for most people it's just a song - they're thinking about dancing and having a good time," he resolves.
So much for Green preferring the media to ask specific questions about his tour, and what songs he will be playing in concert, as an email from his management stipulated before the interview. It also said "he's usually good for about 10 minutes, but it's best if the media have questions prepared and ready".
Green couldn't be more different. He's relaxed, slightly fruity, fires off on tangents, and is excited about coming to New Zealand for the first time to play a show on January 21 at Auckland's Civic Theatre.
"What's going on down in Auckland Scott?" he asks first up.
It's a beautiful sunny day, I tell him.
"Here it's raining," he hoots. "So the grass is happy, and the birds are happy, so you can't complain."
He does enjoy the question about what he'll be playing in Auckland though, and lets rip with a high-pitched whoop: "Oh yeah, we gonna do the lot.
"We're gonna do Tired of Being Alone, Let's Stay Together, Love and Happiness, I'm Still In Love With You, Let's Get Married, we're going to do Amazing Grace, and we're going to do Take Me To The River.
"It's a good show, with the dancers and the singers and the band. There are 22 of us and we're going to have a little bit of a party. Because, since we've never been to New Zealand, it would be inappropriate not to party," he hoots.
As well as the classics, he will also be singing songs from his more recent albums, including last year's excellent, Lay It Down, which harks back to his 70s heyday.
Al Green's rise to stardom happened in Memphis, in 1969, following a meeting with band leader Willie Mitchell of Hi Records.
Green had sung in vocal groups throughout the 50s and 60s, touring extensively, and had released his debut album, Back Up Train, in 1967, although it wasn't until Hi got hold of his talent that things took off. But, he says, he first had to find his own voice rather than simply copying singers like Sam Cooke, Jackie Wilson, and Otis Redding.
Even around the time of recording Let's Stay Together in 1971 he was still copycatting, but Mitchell kept taunting him "to sing like Al Green would sing".
"He was a big guide for me because I was so caught up with others. I hadn't heard myself and I didn't know myself. So I'd always sing like Jackie Wilson, or Sam Cooke, cos I thought they were fantastic.
"I'm going to him, 'How does Al sing?'. So he'd run the tape back and start it again and I'd still be trying to sing like Wilson Pickett. And I ask him, 'Well, how does Al sing?'. He goes, 'Well, Al is cool'. And I'm like, 'Okay'."
And with this he drifts off into another sweet soul serenade of "I, I'm so in love with you ..." by way of an example.
"And Willie Mitchell said, 'Now that's Al right there', and he rolled the tape back and the red lights came on and you know the rest."
Let's Stay Together was Green's first No 1 hit, and to this day - thanks to lyrics like, "Whether times are good or bad, happy and sad", and "Let me be the one you come running to - it's still a favourite wedding song, and wooing song for that matter.
"It relates to their lives and their family and a lot of people say many kids have been born since you've been making this music," he laughs.
However, Green takes no credit for conjuring up that distinct saucy groove his songs ride along on. "That was Willie Mitchell and Al Jackson. They did the patterns and grooves and the music. I just wrote the stories. I'm a storyteller. That's what I am."
And it's here where he floats off singing that beautiful line from I'm Still In Love With You: "Spending my day, thinkin' 'bout you ..."
Throughout the 70s he had hit after hit with songs like Call Me (Come Back Home) and Let's Get Married, although nothing ever eclipsed the early success of Tired Of Being Alone, Let's Stay Together and I'm Still In Love With You.
In those days there was a lot of rivalry between Hi Records and other labels such as Motown, Stax and Blue Note (the latter of which Green's three latest albums have been released on).
"Oh, there was a lot of competition. The Philadelphia sound, the Motown sound [from Detroit], the Memphis sound, or whatever the sound, meant everybody had a little competition going on so it made everyone perform to the top of their ability."
Green jokes about how he and fellow Memphis artist Isaac Hayes, who was on Stax Records, kept cutting similar records.
"We went through that for a little time but then he came out with Shaft and I came out with Let's Stay Together. So there was a little bit of head-knocking going on. But we met in the hallway one time and hugged one another because we realised how silly it all was because all the music was published by East Memphis Music. We were all on the same label really and we didn't even know it," he laughs.
Then, in October 1974 Green's life changed. Following an incident when his girlfriend assaulted him at his home, and later committed suicide, he decided to dedicate his life to God. He became an ordained pastor of the Full Gospel Tabernacle in Memphis two years later.
But wait, there's more.
After an on-stage accident in 1979, Green was injured and he interpreted it as a message from God. From then on, and throughout the 80s, he performed almost exclusively gospel music, although on many of the albums he released during this time there was also a fair amount of soul.
His 1981 album, Higher Plane, which included Amazing Grace, combined fully-fledged soul - or secular music - and gospel perfectly and remains one of his best albums.
But if you ask Green, then gospel music is the real soul music.
"Gospel is music that comes from the soul," he says, before turning mischievous and not being able to resist a few secular thoughts.
"R&B is just about me and my woman on a Saturday night. Or it could have been Friday night, and for all the difference it makes it doesn't really matter what night it was," he hoots with glee.
So look out ladies, because the Reverend is shuffling into town.
LOWDOWN
Who: Al Green, also known as The Reverend
What: Soul and gospel man
Where & when: Civic Theatre, Auckland, January 21
Essential albums: Let's Stay Together (1972); I'm Still in Love with You (1972); Call Me (1973); Higher Plane (1981); Everything's OK (2005); Lay It Down (2008)