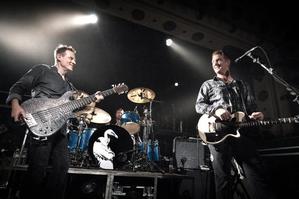 Dave Grohl has declared Them Crooked Vultures his dream band line-up, which makes you wonder how the other Foo Fighters are feeling - and exactly what Nirvana meant to him. Meanwhile, his bandmate Josh Homme, the frontman for Queens of the Stone Age and singer and guitarist in TCV, has been typically low-key about his take on the supergroup.
The band's other main player, John Paul Jones, who was bass player and multi-instrumentalist for Led Zeppelin, is a little less gushing than Grohl but he's excited.
"It's way up there," he says on the phone from Los Angeles about where TCV sit alongside Led Zeppelin and the many other bands and musical projects he's been involved during his 45-year career.
Although, Jones jokes, he hasn't actually been in many bands - TCV is the second after Led Zeppelin which dissolved in 1980 following the death of drummer John Bonham. But he's released a number of solo albums and been in demand working with everyone from REM and Paul McCartney to the Foo Fighters and Butthole Surfers since then.
"But the bands I have been in have been bloody good," he chuckles wryly. "It's the same sort of excitement that I felt in the Zeppelin days, especially when we were starting out. The whole thing of doing what you want and not really thinking, 'Well, what should we do?'. It's that whole thing of just making music for yourself and hoping that if you like it, and it excites you, then it does the same for other people."
TCV formed earlier this year on the quiet. However, Jones first heard about Grohl's supergroup plan in late 2008 when the Foos frontman presented Led Zeppelin with the Outstanding Achievement award at GQ magazine's annual Men of the Year awards.
"He said he was going to do some stuff with his mate Josh and asked if I fancied coming along and joining in. I didn't give him an answer immediately but it sounded like good fun," says Jones.
At the time he was still unsure whether the Led Zeppelin reunion was going to continue and when singer Robert Plant decided against it, Jones was a free agent.
Jones had never met Homme - although he knew of Queens of the Stone Age - and they were introduced for the first time in January at Grohl's 40th birthday party which he held at the Medieval Times restaurant, where jousting knights ride round on horseback while you tuck into your spare ribs. "Dave said it was more like a place you have your 14th birthday than your 40th," remembers Jones.
He jokingly refers to the meeting as Grohl setting him and Homme up on a blind date. They arranged to get together to play a few days later at Homme's Baby Duck studios to see if the collaboration would work. "It was pretty apparent right from the word go it was going to be good," says Jones.
It was also a buzz for Grohl and Homme because they had not worked together since the drummer had played on Queens' classic 2002 album Songs For The Deaf.
Following that initial session Jones had to go back to Britain, but a few weeks later they regrouped at Baby Duck and started writing and recording songs.
"We just started playing. We said, 'Okay, has anybody got any chords?'. Josh said, 'Oh, I've got a few'. And we worked on those for a bit.
"We were getting to know each other as we were making the record which is the best way to do it really because as you explore the person you explore the music at the same time - and the music is part of the person. For instance, I knew what Queens of the Stone Age sounded like, but I didn't know Josh played guitar as well as he does. He's a very interesting musician in general. And obviously I know what Dave does, and I knew Nirvana, but I'd never really banged out rhythms and grooves with him. He's actually a very groovy drummer. We made a good rhythm section together.
"So it was nice to explore rather than hang out with them for an awful long time and then talk about everything and then try and do something," he says in his laid-back, yet well-spoken and gentlemanly lilt.
The project was undertaken with great mystery. Homme's wife, musician Brody Dalle, was one of the first to hint about the band back in July, and Grohl dropped a few comments. But slowly, over the past five months via the band's website and You Tube tid-bits, the make-up, sound and style of the band started to emerge.
Was it hard to keep it a secret? "It was indeed," says Jones. "I have to make it up to a few friends who said, 'Oh yeah, but you can tell me'.
"The idea was to keep it a secret so there wasn't lots of speculation and lots of pressure. I suppose we just wanted to do it without the glare of publicity - and to just get on with it."
They played for the first time at the Metro in Chicago on August 9; did a string Birds of other gigs and a few festival shows; and then announced a tour, including two New Zealand dates on January 29 and 30. And this was all before they'd even mentioned an album was on its way.
Them Crooked Vultures was released this week and it's a coming-together of the trio's unique musical backgrounds. At times it's heavy and then dulcet; the sweet parts unexpectedly turn beautifully twisted, and most importantly it's a powerful and inventive rock'n'roll record.
Jones, as he did in Led Zeppelin, plays bass, keyboard, piano and mandolin on the album and adds slide guitar and, oddly enough, keytar to his repertoire.
On Scumbag Blues he channels Stevie Wonder; on Dead End Friends the lads do a spot of desert boogie-woogie and stand-out Caligulove is a sick melodic stomp.
"That's a Josh riff," says Jones of the latter. "A really dumbed-down riff. And I thought I'm going to be dumb as well. So I put this 60s organ sound on it, which is odd because it was a sound I never liked in the 60s. But [Homme] has all these old keyboards in his studio and I was wandering round and found this one. There was a lot of that: 'What can we do here'."
The age gap between the two younger blokes (Grohl is 40 and Homme 36) and 63-year-old Jones doesn't have any bearing on the music, he reckons.
"We're all pretty much on the same page musically. We've all got different influences, and Led Zeppelin were a pretty energetic band, so I don't think I've lost any of the energy. They've also come up with a similar legacy to mine really. It's in the beginning blues-based rock, I suppose, so it comes from the same source but I'm just a bit further back, or a bit closer to the source."
Which is one reason they clicked so quickly in the studio. Jones finds Homme especially intriguing as a musician because he manages to bring together a dark, heavy sound that's also melodic and sweet. "And he's very gentle in his music as well as being tough. He's got great chops, and a great voice. He constantly surprises you with what he comes out with and his lyrics are brilliant."
Jones insists there was no leader, even though Grohl instigated the project, and Homme is obviously the frontman and has a dominant voice on the album since he's the singer.
"Whoever had the start of anything was the leader for the day, as it were. It is the meeting of three."
LOWDOWN
Who: Them Crooked Vultures
Line up: John Paul Jones (Led Zeppelin); Josh Homme (Queens of the Stone Age); and Dave Grohl (Nirvana/Foo Fighters)
What: A bonafide rock'n'roll supergroup
Where & when: TSB Bank Arena, Wellington, January 29; Vector Arena, Auckland, January 30
Debut album: Them Crooked Vultures, out now
See also: Led Zeppelin - Led Zeppelin III (1970); Queens of the Stone Age - Songs For the Deaf (2002); Nirvana - Nevermind (1991); Foo Fighters - The Colour and the Shape (1997)