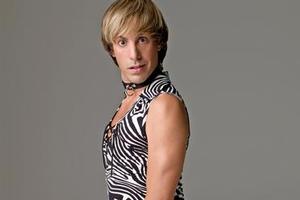 In his latest mockumentary film Bruno, out now, Sacha Baron Cohen takes aim at everything from the Palestinian peace process to B-list Hollywood stars. But one sacred cow proved untouchable - the late Michael Jackson.
In the guise of outrageous gay fashion reporter Bruno, the London-born comedian had interviewed the late star's unsuspecting sister La Toya Jackson. He somehow persuaded her to sit on some Mexican workers posing as chairs and to eat sushi off the chest of a naked man. It proved all too much for La Toya when he first prompted her to impersonate her more famous brother and then tried to extricate his phone number from her BlackBerry. She stormed out of the studio followed by Bruno, who chased her car down the road.
The sequence was greeted with considerable laughter when the film premiered in London a week before the King of Pop's sudden death. However, it was subsequently deemed too close to the bone in the wake of the tumultuous public grief that has been expressed worldwide ever since. By the time Bruno reached Los Angeles late last month, it had, according to a spokesperson from the film's studio Universal Pictures been cut, "out of respect to the Jackson family."
However, respect is a quality that is generally in short supply in the film. Bruno has incensed even more people than Baron Cohen's previous movie Borat, which chronicled the hilarious, scatological exploits of a fictional Kazakhstani journalist as he travelled across America. Like Borat, Bruno first appeared on satirical television show Da Ali G Show, which aired on Britain's Channel 4 before moving to HBO in America.
Directed , as was Borat, by Larry Charles, Bruno follows the exact same formula as its predecessor, even down to the presence of a hapless sidekick, in this case simpering fashion assistant Lutz (Gustaf Hammarsten), who is hopelessly in love with his fickle master.
Some US gay critics have accused the film of promoting homosexual stereotypes. According to Rashad Robinson from the Gay and Lesbian Alliance Against Defamation: "Some people in our community may like this movie, but many are not going to be okay with it. Sacha Baron Cohen's well-meaning attempt at satire is problematic in many places, and outright offensive in others."
However, if the camp, lisping Bruno cuts a ridiculous figure in his trademark mesh vest and hot pants - or the sexy beefeater costume in which he marched down the red carpet in London - it is the homophobic prejudices of large parts of American society that he really skewers. In the film he asks a group of redneck hunters what Sex in the City character they most resemble and he conducts a deadpan interview with an evangelist who claims to be able to "cure" homosexuality.
Former Gay and Lesbian Alliance member Cathy Renna notes: "Of all minority groups, gay people are the most likely to be able to laugh at themselves."
Speaking before the film's screening in Leicester Square, renowned drag queen/ DJ Jodie Harsh declared, "It's just silly fun, it's fine. I'm gay and I can't wait to see it."
Meanwhile, British gay website Pinknews.co.uk believes that "there are many points at which Bruno makes the kind of social commentary that you would normally associate with Michael Moore."
In a ferocious attack on celebrities such as Madonna who apparently treat African orphans like the latest fashion accessory, it is Bruno's adoption of a baby, or a gayby,' that has courted the most controversy. He appears on a Jerry Springer-esque talk show, where his casual treatment of his young son, who arrived in the country in a box, raises eyebrows. Some obviously digitally altered photos of Bruno apparently having sex with another man in a hot tub while the little boy looks on almost lead to a riot.
Writing in the Huffington Post, Rashad Robinson suggests that such scenes could create extra obstacles for gay families. "In a country where gay and lesbian parents can still be denied the ability to adopt the children they have raised since birth, the idea of trivialising gay families, making them the butt of a series of crude jokes didn't feel funny. It felt dangerous."
But, as Frank Voci from gay organisation White Knot maintains, the film is essentially harmless. "I don't think any conservative group is going to use Bruno to make a point about how awful gay people are," he told the New York Times. "If they try to go there, we can easily turn around and point out how horribly these people reacted to him being gay."
Bruno is out now in cinemas.