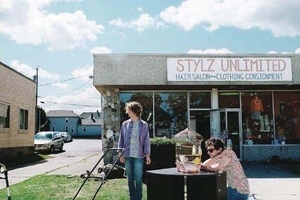 If you're still holding out hope for MGMT to make another Kids, Electric Feel or Time To Pretend, it's time to burn your fluorescent headband and give up. On 2010's Congratulations, Benjamin Goldwasser and Andrew VanWyngarden distanced themselves from those early pop hits by releasing an at-times unlistenable soundclash of psychedelic prog-funk that out Flaming Lipped the Flaming Lips. They continue their trip into the furthest reaches of outer space on their third album - but there are occasional signs MGMT are missing some home comforts: try the soothing underwater throb of Cool Song No. 2, the woozy Middle Eastern lope of Introspection, and the low-fi punk of Your Life is a Lie, which sounds awesomely like Loser-era Beck.
There are moments too that rival eccentric electronic oddballs F*** Buttons for aural inventiveness - check out An Orphan of Fortune's overwhelmingly glitchy soundscape, or the button-mashing glide into the unknown on Mystery Disease. So Alien Days is a Ziggy Stardust-aping misfire that sounds suspiciously like a Conchords joke missing a punchline.
But, mostly, MGMT's intergalactic planetary journey is still one you should buy a ticket for.
Stars: 3.5/5
Verdict: Space pixies transmit messages from Mars.
Click here to buy MGMT's new album.
Follow @nzherald_ent on Twitter for all the latest entertainment news.
- TimeOut