Astonishing to have a hit TV show about baking in its fourth series - and not a floury nana to be seen or heard.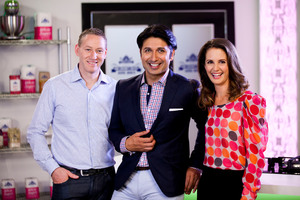 I had an awful dream, the sort of thing television critics can suffer, and in it I imagined a new TV series.
It was called Antiques Food Show and involved members of the public bringing in old meals to be identified by celebrity experts who'd consider if they were worth anything.
("Good grief, it's boiled mutton, dating from the late 1880s, possibly uneaten by Queen Victoria herself. Impossible to put a price on.") I expect something like that to come along any moment. Anything is increasingly possible on prime-time TV, especially if it features food. Even baking, that funny old world of flour-dusted nanas, is now cool - though there's not a floury nana in sight.
At least not on Chelsea New Zealand's Hottest Home Baker, which is back on TV3 (Thursdays, 7.30pm) with its astonishing fourth series. And I don't mean the show itself is particularly astonishing, but that it seems astonishing to have a hit TV series about baking.
Hottest Home Baker is a competition show, of course. In last week's first episode, it was massacre by cupcake and tomato tatin, as 16 contestants were slashed to eight.
And, despite myself, it was all great fun too - but what else could it be with baking which, visually at least, is the most psychedelic corner of cookery and perfect for HD TV?
Colin Mathura-Jeffree, all cheek-bones and dramatic entrances, is the least likely host for this sort of thing, but that just adds to its style. Though, of course, Colin and the eye-watering visuals aside, Hottest Home Baker is just another cooking contest.
Good talent though - especially Ben and Vance, who insisted that a baked potato and a pancake were baking. "That's what the 'cake' in 'pancake' means," insisted Vance.
Needless to say, they were both eliminated.
I predict great things for the supernaturally perky Gemma, who sailed through despite making cupcakes with sweetcorn in them.
"Live life on the edge," she chirped.
On another sort of cookery show, the gripping new local drama Harry (9.30pm, Wednesdays, TV3) lifts the lid on the seething world of P, its cooks, dealers and users and the cops fighting it.
Starring a still and strangely haunting Oscar Kightley alongside a cliched Sam Neill, Harry sets bold new standards for gloominess.
Kightley plays Harry, a depressed alcoholic, widower, father of a troubled teenage daughter and drug cop swiftly losing the plot while all about him trouble brews.
The trouble actually provides some of the best bits about Harry - the bad guys emerging with a menacing sense of reality from the identifiably local settings, all evil tatts and nasty intent.
Matthias Luafutu, playing a feral-eyed prince of P, is utterly convincing. A dark star. Strangely, Neill, the real star in the cast, seems the least convincing as Harry's boss - feeling beamed in from the 1970s with his funny old moustache and his glowering ways.
But based loosely on fact, shot with an good eye for our place, savagely violent when it needs to be and compellingly heartbroken and hurt too, Harry sets a new local standard.
Episode three is tomorrow night.