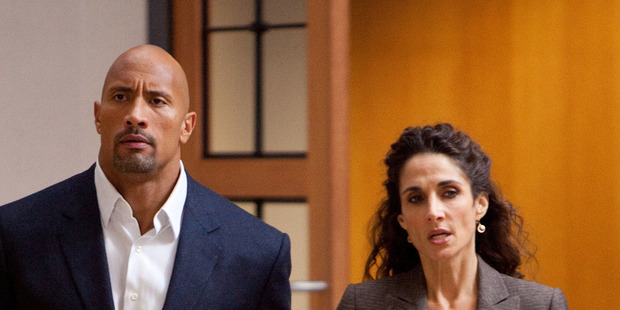 Dwayne Johnson is obviously keen to put his wrestling moniker "The Rock" behind him in his first serious dramatic role in this crime thriller.
With a catalogue of testosterone-filled action roles and goofy kid-friendly adventures, Johnson plays John Matthews, a father prepared to do anything to get his son off a drugs charge and out of prison.
It's a step up for Johnson, the gimmicks are gone (the shirt stays on) and, although it's not an emotionally charged performance, he handles the material admirably.
Matthews' son has been locked up after receiving a package of pills on behalf of a friend, and is facing 10 years in jail. A concerned and determined father, he reacts by going undercover and offering his transport company as a service to a local drug gang.
The Drug Enforcement Administration (DEA) and police have told him they will cut his son some slack if Matthews can deliver them a larger prize.
There are a few gripping action scenes and a handful of intense confrontations, but screenwriter Ric Roman Waugh is more interested in drama than action. He also gets distracted by issues, most notably the unfair mandatory minimum sentences for drug offences, the practice of offering lesser sentence for snitching on someone else, and the Government's lack of concern for other people's safety when pursuing high-level drug criminals.
In doing this he's left us with a hero whose intentions are admirable, but whose selfishness makes him hard to feel good about. Matthews is not terribly concerned about the collateral damage his actions cause. He's prepared to put an ex-con who is trying to get his life together back behind bars, and pack his family off to witness protection so he can get his son out of jail.
It also proves difficult to leave the action hero behind; the more determined Matthews becomes, the more Johnson retreats into cliched, clenched-jaw action mode. It's a step in the right direction, but when the action kicks in and "The Rock" takes over, Snitch morphs from gritty and dramatic to cheesy Hollywood flick.


Stars: 3/5
Cast: Dwayne Johnson, Jon Bernthal, Susan Sarandon
Director: Ric Roman Waugh
Running time: 112 mins
Rating: M (drug use and violence)
Verdict: "The Rock" gets serious in this crime drama
- TimeOut