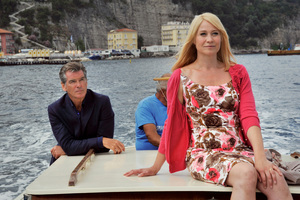 In a series of emotionally lucid and superbly written melodramas over the past decade (Open Hearts; Brothers; After The Wedding), the Danish helmer Bier and her co-writer Anders Thomas Jensen have set a consistently high standard. But their first shot at a romantic comedy has distinctly mixed results.
Even the presence of Brosnan, a very underrated comic actor (check out Matador and Married Life) fails to rescue a film whose pace and timing is at best ponderous. Meanwhile, the plot's serious subtext, embodied in the title, never makes for more than a mildly entertaining piece of sentimental floss. And an unintentional level of incongruity is added when Brosnan speaks English and everyone else speaks Danish, which he appears to understand. The polyglot Danes would never dream of being so rude.
Copenhagen hairdresser Ada (Dyrholm), waiting for the all-clear from doctors after breast cancer treatment, comes home to find her deadbeat husband Leif (Bodnia) nakedly entwined with Tilde from accounts. She drops him like a stone but they agree to put a brave face on matters for their daughter's impending wedding in Italy.
En route to the nuptials, Ada bumps (literally) into vegetable tycoon Philip (Brosnan), an expat Pom, whose son is (surprise!) the groom. From an unprepossessing beginning, they ... well, you probably know what happens.
The sure touch Bier displayed in her earlier films seems to have deserted her here: Brosnan's Philip, work-stressed and romantically burnt-out ("I've danced all the tango I'm ever going to dance") seems to have been downloaded from stereotypes.com. And as for Ada, it's hard to care about a woman who has measured out her life with lemon puddings.
If there's any chemistry between them it's well hidden. There are certainly moments - such as the scene in which Philip explains the circumstances in which he became a widower - when we glimpse Bier in the form of old, but the film as a whole is really an uncomfortable blend of comedy, drama and farce. It's hard to say whether the English title or the original (The Bald Hairdresser) is more ill-conceived. Certainly, the movie is.
Stars: 2.5/5
Cast: Pierce Brosnan, Trine Dyrholm, Molly Blixt Egelind, Sebastian Jessen, Paprika Steen, Kim Bodnia
Director: Susanne Bier
Running time: 116 mins
Rating: M (sex scenes, offensive language, nudity) In English and Danish with English subtitles
Verdict: Misses the mark
- TimeOut