Let them eat cake? Not, it seems, if the poor uplifted it from a bin.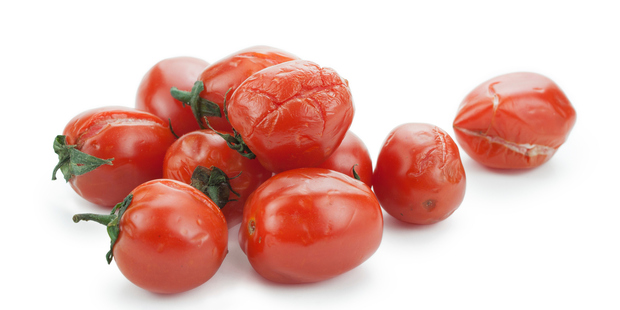 Opinion: I've never dived into a dumpster to rescue food. I'm not saying I wouldn't. I have, after all, been apprehended snaffling bread from the food bucket intended for my pigs. I've also disregarded use-by dates and I'm not unwilling to use the phrase "Are you finished with that?" when it comes to other people's leftovers, especially bones that often retain neglected morsels of meat and marrow.
I would, therefore, unquestionably retrieve perfectly good food from a skip should I have the opportunity, and so long as it didn't assault my nose, or appear too slimy. After all, it's only going to be composted or landfilled.
Does that make me a criminal? In Britain it just might. After clambering over a fence and raiding a supermarket's skip, three men were arrested and charged under a vagrancy law that dated from 1824. It is a crime, said the powers that be, to liberate something that someone else doesn't want, in this case some tomatoes, mushrooms, cheese and a cake.
Let them eat cake? Not, it seems, if the poor uplifted it from a bin. The offending trio didn't have a chance to eat any of the items.
The police retrieved them, and returned them to the supermarket who no doubt returned them to the skip.
Many people immediately suggested that the real crime here is the sheer volume of food wasted on a daily basis. The UN estimates that up to a third of food produced for human consumption is wasted. On average New Zealand households throw out $458 worth of food every year. That's at least a week's groceries for a family of four.
Those statistics remind me that I really must get rid of those aging kiwifruit currently in my fridge. And those carrots. And that zucchini.
It's not just the food that doesn't make it to the plate that's squandered. To halt restaurant waste some establishments have instigated a surcharge for people who don't eat all the food they order.
I'm hoping this doesn't catch on here, or indeed in the US, where I've been served meals of inhuman proportions. They were more than ample for two, and I would have shared them but they then sting you with a "sharing" fee. I had no need to season those meals. The salty tears of my despair at such wanton waste did that.
Little wonder there are entire movements of people adept at reclaiming food that would otherwise be dumped.
Many people I know who venture into this territory on a regular basis are more than able to afford food, yet choose to skip dive as an economic and political statement. I suspect they also love the thrill of the furtive foraging.
Philanthropic folk are also industriously re-routing the vast torrent of perfectly edible food from the wastestream, and distributing it to those who couldn't otherwise afford it.
Volunteering with Wellington group Kaibosh, I was astounded to see that the food they diverted from the waste stream was of a better quality than what came from my garden. But when people are paying top dollar they demand perfect produce, which they can then take home and forget about in the fridge.
Why did I raid the pig's bin? It was neither an economic nor a political act. I just wanted some bread, and at that stage the pigs were eating far better than I was. I felt content knowing that eventually I would be eating them, and if their diet was anything to go by they were going to taste fantastic. And they did. From nose to tail they were delectable. Not a mouthful was wasted.
Like what you see? For weekly Element news sign up to our newsletter.
We're also on Facebook and Twitter.