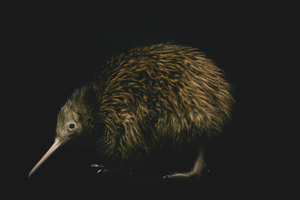 The idea that our national icon - the humble kiwi - could be no more is unspeakable for New Zealanders. Yet that is what we're facing. The kiwi population is decreasing by approximately two per cent a year, a statistic that could mean extinction on mainlain New Zealand within our lifetime. Fortunately, increasing attention is being paid to these creatures in an attempt to see our national bird flourish once again.
Kiwis for Kiwi, an independent charitable trust formed a year ago, is leading the charge for kiwi conservation. The organisation supports established communities protecting kiwi throughout New Zealand, ensuring that they have the necessary funds and materials for their work.
This October, Kiwis for Kiwi is looking to expand its reaches with the first ever Save Kiwi Week, a campaign that aims to raise funds and awareness for the kiwi crisis. The inaugural event will run from October 14-20 and is a call to action for all citizens. Executive director Michelle Impey says: "It's about encouraging people to get out and understand what they can do to help."
A goal is to raise $100,000 which will protect 1000 kiwi. There are five DOC sites and more than 85 independently established community groups throughout the country.
These communities have taken it upon themselves to create pest-free sanctuaries. From installing predator-free fences to setting up trap lines to planting trees; they're eliminating the risks to kiwi survival.
Prior to mammalian contact kiwi used their feathers as camouflage on the forest floor, allowing them to hide from predators that hunted by sight. However, the introduction of mammals such as stoats, rats, ferrets and pigs - which hunt by smell - was bad news for the distinctly scented kiwi. Now, these predators pose the biggest threat to the kiwi population.
Often abandoned by their parents after hatching and unable to defend themselves until they reach a weight of one kilogram (at around six months old), 95 per cent of kiwi in unprotected areas are killed by predators before they reach breeding age.
If they are lucky enough to reach this milestone, the three leading causes of death are cars, ferrets, and dogs. The latter of these is the focus of a strong advocacy push during Save Kiwi Week.
And while these efforts may seem futile in the face of depressing statistics, there is evidence that the work being done is effective. In the Coromandel for example, where at least six separate community groups exists, the kiwi population is doubling every decade.
According to Impey, it's little armies of citizens who are making enormous impact.
Former All Blacks coach Sir Graham Henry is joining the battle to save the kiwi with a unique opportunity. Those who register on the Kiwis for Kiwi website will automatically be entered into a draw where one lucky winner will be chosen to hang out with Henry for the day, travelling to a nearby island sanctuary and releasing together one special kiwi back into the wild.
Other sponsors include the Department of Conservation, Trade Me, Air NZ, Mr. Vintage, and long-time supporter BNZ.
To donate to Save Kiwi Week and find information and events, visit and register at kiwisforkiwi.org
Get Involved
Want to join the ranks and help kiwi? While there are plenty of communities across the country, you don't have to go far to get involved. In the Auckland region alone there are four conservation groups looking for your help. These are: Mataia Restoration Trust, Tawharanui Open Sanctuary, Motuihe Island Trust, and Motutapu Restoration Trust. For more information, email enquiries@kiwisforkiwi.com or go to kiwisforkiwi.org
Dogs dinner
Those with a pet dog can be part of the problem - or the solution. Taking dogs into environments where kiwi are present can be fatal, no matter how family-friendly the dog may be. One way to reduce the risk of a dog attacking kiwi is to take the pet to aversion training which teaches it how to ignore kiwi. It won't guarantee complete kiwi protection, yet it will reduce the risk dog-related attacks.
Like what you see? For weekly Element news sign up to our newsletter.
We're also on facebook and Twitter.