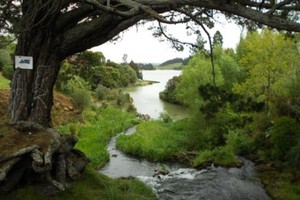 Estuaries and harbours
From the mountains to the seas threats wind their way into our rivers impacting on estuaries and harbours.
Historically, much of the forest cover of New Zealand has been cleared for agriculture and the establishment of towns and cities. This leads to an increase in mud and silt carried by our waterways. This not only affects creatures in our waterways and marine environment says Dr. Mark Davison, a conservation ecologist who studied aspects of New Zealand's threatened ecosystems. Silt-choked waterways also encourages pesky, invasive weeds to take hold.
One particularly concern Davison has is the increase in pollutants and contaminants entering our estuaries and harbours. Our urban and agricultural land use practices are often to blame, with pollutants coming from things like fertilisers, contaminants from cars, metals from roofing and piping and pesticides washed into the ocean.
Downstream of rivers, this impacts majorly on estuaries, says Davison. "Some of the estuarine ecosystems have become degraded to the degree they have lost much of their ability to function." As the habitat in these estuaries declines in quality, species die or move on, resulting in less diversity.
Moving towards the marine environment, jetties, marines and coastal housing have created big changes for the natural tidal flow. Some have positive aspects though, says Davison. Things like jetties can provide roosting sites for seabirds and habitat for hunks of seaweed and mussels.
Our impacts continue to the end of our beloved fishing rod. Fishing has had an impact on the availability of our favourite species. "Species such as snapper and h?puku, are now very rare in inshore estuarine waters," he says.
Why bother?
Auckland's magnificent harbours (Waitemata, Manukau and Kaipara as well as the smaller Whangateau and Mahurangi) and the Hauraki Gulf are international biodiversity hotspots for seabirds and marine mammals - areas with lots of biodiversity that is under threat.
We also have many mammalian visitors, says Davison. "The Gulf has the only resident population of Brydes (pronounced Bruu-dus) whale. Other whale species such as Minke, Blue, Humpback, threatened Orca and Southern Right visit the Hauraki Gulf. We also get smaller marine mammals - Common, Bottlenose and Maui dolphin are resident in the Auckland harbours."
The Maui's dolphin is one of our most precious residents. It is the smallest and rarest dolphin in the world with only 55 adults left.

Our harbours also play host to a flurry of migrant birds who holiday here during the summer. You can see flocks of bar-tailed godwit which gather in numbers in the Manukau Harbour. Auckland harbours also have populations of birds like royal spoonbill, white heron, wrybill, oystercatcher and pied stilt.
Perhaps our most uncommon visitors to the Gulf are sea turtles and sea snakes.
Mark's pick:
"This is a difficult one as I have many favourite species. I guess it would have to be the white-faced heron. It has been very successful in adapting to an environment highly modified by humans. They are found across all areas of Auckland where they forage in estuaries, wetlands and in open pasture. "
To avoid being munched by introduced predators like stoats and cats, these birds nest way up in tall trees. They are very attentive parents, says Davison, and they usually raise two chicks.
What are the ecosystem services that these creatures provide?
From the tiny creatures in the muddy estuaries to large whales living in the Hauraki Gulf life is intertwined in a series of complicated food webs.
Within the web, many important services are provided that humans tend to take for granted.
These include:
Invertebrates such as snails and crabs act like tiny ecological engineers, turning over the sediments which kept them aerated and healthy.
Birds that probe for food bring air to the sediments reducing unhealthy low-oxygen environments.

Mussels and shellfish act as water purifiers; they filter the water and remove nutrients and particles that cloud the water. Their shells also help to build up beaches, reducing the erosion of the coast.
Fish - provide us with a delicious food source.
Mangroves - help to keep the coast stable whilst providing habitat for fish, birds and other creatures. Marine mammals provide an opportunity for tourism
The state of our harbours:
Sadly, the water quality in our harbours are in serious decline. You can read more about it in the State of the Gulf report produced by the Hauraki Gulf Forum. www.haurakigulfforum.org.nz
According to Davison, we will get healthier harbours and estuaries if we just:
Respect wildlife that use the marine environment and realise our oceans are habitat for many creatures (including fish)
Stop putting contaminants into our harbours
Improve the outfall (waste ) from sewerage treatment plants
Improve the wastewater from stormwater that enters the Hauraki Gulf
Reduce fishing pressure - Most fish species that are exploited are overfished, we need to allow fish stocks to rebuild.
Davison says that some areas of the harbour need to become no fishing zones. "This will reduce negative interactions with wildlife such as bird and dolphin entanglement in nets."
What is being done?
Luckily, there are lots of positive actions already being taken.
Groups like Wai Care, Project Twin Streams, NZ Landcare Trust's Volcano to Sea project and Trees for Survival are working with school kids, community groups and iwi to put plants back in the ground - whilst keeping an eye on the health of our waterways.
Groups like supporters of Tiritiri Matangi are getting 35,000 tourists and visitors out on the Gulf to see what can be achieved by community conservation groups.
Plenty of people around the country are doing amazing things with restoration.
Learn about Great Barrier Island's Glenfern Sanctuary here: http://www.elementmagazine.co.nz/people/staycation/barrier-bound/
Check out what Whaingaroa Harbour Care Group and farmers from Golden Bay have achieved here: http://www.elementmagazine.co.nz/business/primary-industry/mountains-to-the-sea/
People need to value our harbours and estuaries, says Davison. "We need to see these areas as places supporting wildlife and provide the ecosystem services that humans rely upon."