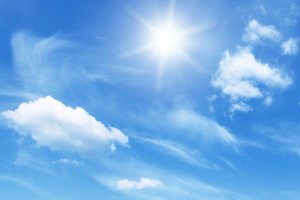 There's no denying Auckland's unpredictable weather, but we still boast around 2050 hours of sunshine a year, somewhere around the national average. And yet Auckland installs a mere 10 per cent of the national solar water heating systems being implemented around the country.
Each year we are exposed to between 20 and 30 times more solar energy than is used in our homes in electricity or gas. Solar water heating (SWH) captures this eternally renewable power to heat a day's worth of water (200 - 270 litres for the average household), storing it in a hot water cylinder. Overall solar can provide a good 50 - 75% of your annual hot water and takes just a day to install.
During the sun-drenched summer months, SWH delivers around 75% of hot water needs. Once the weather packs in, or wintry days reduce the amount of sunshine, 'backup' electricity heating keeps water at just the right temperature, banishing the cold shower blues.
Household water heating uses around 8 kWh daily, making up around 50% of the average household electricity use and one third of the energy bill.
SWH produces up to 15kWh/day in the bountiful sunshine hours of summer and around 7kWh/day on a cloud-free winter's day. All in all, a SWH heating system will save 2,200 kWh of electricity and around $775 each year.
There are a whole lot of designs available for SWH systems and many of them have ENERGY STAR® energy efficiency ratings. Some SWH products, such as SolarCity's Thermocell, have been designed with extra eco-friendliness in mind. Over its lifetime, the kiwi-made and manufactured Thermocell will create 45 times more energy than was used in making it, and 90% of the product can be recycled.
The cost of installation is substantial, varying from around $4,199 (for Meridian energy customers) to about $7300 (if you are buying a new cylinder). It's best to install SWH into new buildings where the system can be most effectively designed, with rooms needing access to hot water (laundry, bathrooms, kitchen) being grouped together to avoid heat loss through pipes. A high-class SWH system will last for at least 20 years, and, given that it takes 8-10 years to pay off, you'll be enjoying free hot water for about half its lifetime. ?
The more hot water you use, the more you can reap the solar benefits. The Leigh Sawmill Brewery saves around 50% of its greenhouse gas emissions and 9,000 kWh per year by heating water used in the brewing process through SWH.
This is part and parcel of the company's environmental ethic; it also collects its own rainwater and reduces waste by giving leftover grain to local duck farmers.
New Zealand still lags far behind countries like Greece, China, Australia and Israel in terms of its SWH prowess. Following fuel shortages and the energy crisis of 1974, Israel made SWH systems compulsory.
Today 90% of houses have SWH systems, saving the country some two million barrels of oil a year. SWH will increase your property value, making it more attractive to eco-conscious homebuyers and renters.
Research suggests that for every dollar invested into renewable energy, you'll see a $20 return. SWH reduces our reliance on non-renewable, carbon-intensive electricity, particularly natural gas and coal which make up 21% of our electricity.
These are responsible for belching 370 g of CO2 per kWh and 800 g CO2 per kWh respectively, into the atmosphere. Costing less than a new lounge suite, SWH systems offer a plethora of plus sides.
Considering future predictions for global gas and oil shortages they are a smart way of saving dosh and reducing demand for electricity. Harnessing Auckland's sunshine, and producing power from your very own rooftop, is a satisfying, and sustainable, choice.