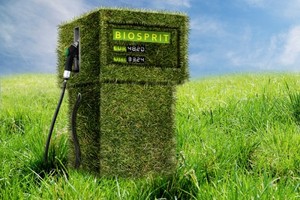 Tourist operators and trucking companies may be unable to choose biofuels for the next few years, after the end of a government subsidy designed to kick-start the industry.
The Biodiesel Grants Scheme had given a grant of up to 42.5 cents per litre to biodiesel producers. But despite lobbying from The Bioenergy Association and others, the government declined to renew it once the initial three-year scheme came to an end in June.
Brian Cox, executive officer of the association has said the result has been the closure of several small biofuel plants and an end to three years of development work at a time when the industry was starting to gain new customers, particularly in commercial vehicle fleets.
"It has changed the dynamics completely," he said. "Up until now the focus was on getting people used to using biofuels. The grant was helping users access fuel that they could get used to. All of that has stopped. For example, from the point of view of the tourist trade being able to say we are pure green and using an environmentally-friendly locally sourced fuel they can't get the fuel to be able to do that.
"The focus has now moved to the development of more advanced biofuels, which in New Zealand will be principally sourced from woody biomass. But that technology is a few years away from being able to put fuel on the market, so we have now got this hiatus as far as some consumers are concerned, who will have to wait while the new technologies are developed."
Meanwhile, Cox said wood milling companies like Norske Skog and Carters are actively looking at converting their facilities to biofuel production, a sign that the industry still has a bright future.
And despite the changes, the Gull service station chain is continuing to offer biofuel blended fuels on its forecourts around the country made in New Zealand from a natural by-product of the dairy industry's activity, or from sugar cane grown in Brazil.
Bad rap:
In recent years biofuels have become perhaps one of the best demonstrations that there is no such thing as a free lunch. With the twin jaws of Peak Oil and climate change beginning to bite, the idea of switching to biofuels seemed like an ideal solution to both.
But the reality was somewhat more complex. For example, converting corn to ethanol has become one of the major sources of alternative fuels, particularly in theUS. But the concern is that it is being used in cars as an alternative to feeding people.
Heavily subsidised ethanol production in the US accounted for just over a quarter of all the corn grown there last year, with the result of pushing up worldwide corn prices and diverting cheap US grain to ethanol in the middle of recurring global food crises.
Sensing a gold rush, Brazil and other developing countries have increased corn production, leading to increased deforestation and increasing competition between local food and export dollars there too.
In 2007, this led to rioting in Mexico as the price of the staple tortillas spiraled upward.
Even non-edible plants used for biofuels have hit trouble. The hardy Jatropha plant was hailed as perfect for biofuel production as it can be grown on marginal ground and is pest and drought resistant.
But it can also be grown in huge plantations at the expense of food or forest and has been reported to have driven farmers in the developing world to bankruptcy as they banked on easy returns that have not materialised.
While the ethanol industry continues to be a major global player, the latest developments have shifted to alternative sources like food waste, wood waste and algae, all areas in which major New Zealand clean tech companies like Lanzatech, Aquaflow and Scion have a great deal of expertise and experience.
However, these too are not without their challenges, and the greatest challenge of all may be to significantly reduce the amount of liquid fuels being used worldwide.
The Army's Green Machine
The energy used to run the Waiouru Army Base has taken on the greenish hue of its inhabitant's fatigues.
The base now boasts the largest wood pellet-fired boiler in the country, with the conversion of its 8MW boiler from coal to renewable wood pellets.
The project has displaced 5,300 tonnes of coal a year, cutting annual C02 emissions by 10,500 tonnes.
Consuming up to 27 tonnes of wood pellets a day throughout winter, the project has boosted wood pellet consumption by 50%.