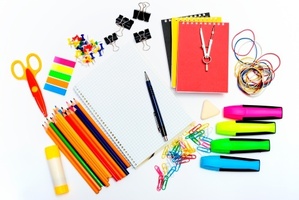 School supplies bought from businesses giving kickbacks to schools can be as much as 33 per cent more expensive than the cheapest prices online.
Myschool.co.nz, run by Office Max, lets parents buy all required stationery for their children by entering a school name and class. Supplies are paid for online and delivered, and the school receives a small cut of the sale.
In most cases, the required stationery is itemised and can be removed, letting parents shop around. But for some schools, contents of students' stationery packs are hidden on the website, revealing only the price.
A Herald survey has found there can be premiums for buying exclusively from such preferred vendors.
The prices from Office Max were generally competitive. But a few items, such as pencils, coloured pencils and highlighters, could be bought at a big discount elsewhere.
Altogether, cheap online prices added up to $44 for Devonport School's Room 1 requirements.
Office Max was charging $65.
In a quick scan of myschool.co.nz, Papatoetoe East School was among the few schools that did not reveal its lists on the website. Its students were simply offered packs A through D, priced between $27 and $35.
Principal Graeme Gilbert said the school was giving lists to any parent who asked.
The school, like most, had been trialling different systems in recent years, all of which had their faults and drew some complaints. "What we tried to do is make it as easy as we could for parents," Mr Gilbert said.
Some stationery substitutes, such as glue sticks, often had problems compared to recommended brands, he said.
Ponsonby Primary School principal Anne Malcolm said there was little financial benefit for schools.
Her school put its lists on myschool.co.nz last year, and about 60 per cent of its 385 students used it. The school made about $1300, Ms Malcolm said.
It would not think of forcing parents to one retailer, she said. "We don't make enough money out of it to be even remotely worth it."
Principals Federation president Phil Harding said that a decade ago most schools assembled their own stationery packs and sold them directly to parents.
But retailers had begun competing intensely over the January stationery shopping period, offering huge discounts.
More recently, retailers were pitching online systems to try to win the market, Mr Harding said.
"It's about the big retailers fighting," he said.
Teachers still drove school stationery lists, and parents should relay any concerns to principals, he said.
Meanwhile, many parents have been venting their frustrations online.
Their comments highlighted the wide range in what parents were being asked to spend, depending on the school - from about $10 to $100 per pupil.
savlon123 wrote on Trade Me's forums: "Personally I HATE the pack idea where our school is concerned."
Quoteowl32 replied: "Same. And we are NOT allowed the list of items either, so we can shop around. It's wrong I feel."
The Herald left a message left with Office Max's media spokeswoman, but she did not respond. Last year, the company's education and retail general manager, Suzanne Flannagan, said it was up to schools whether to use Office Max as a sole supplier.
The Warehouse group chief executive Mark Powell said in an open letter at the weekend that parents should be free to choose where to buy their stationery without being locked into a particular vendor.