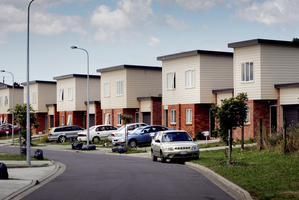 The NZIER shadow board believes Reserve Bank governor Graeme Wheeler should leave the official cash rate on hold at 2.5 per cent tomorrow but, like last month, the margin by which they prefer that to a rate cut is narrow.
The board is a panel of nine economists and business leaders set up by the New Zealand Institute of Economic Research who are asked to give a percentage value for how much they prefer each interest rate the governor might go for.
The results are then aggregated to give a collective view, which serves as an indicator of how convinced they are of the preferred option and how they see the distribution of risks.
The board placed a 56 per cent weight on keeping rates on hold, as they did before the last OCR decision in December, and 38 per cent on lower rates, down marginally from 40 per cent last time.
Kirdan Lees, NZIER's head of public good research, said inflation was at historical lows, tempered by a high exchange rate and weak household demand that meant firms struggled to pass on cost increases.
"The economic recovery has little momentum and unemployment remains high. In most areas of the economy there is ample spare capacity," he said.
"But the Auckland housing market is running hot and the Canterbury rebuild means we can expect rising inflation in some pockets of the economy."
Steel & Tube chief executive Dave Taylor is in the minority favouring a rate cut, preferably of 50 basis points.
"Several key sectors, especially manufacturing, continue to struggle. The situation is also compounded by a stubbornly high dollar," he said.
"Auckland house prices are being influenced primarily by lack of supply rather than the OCR and therefore this should not influence OCR decisions at this moment."