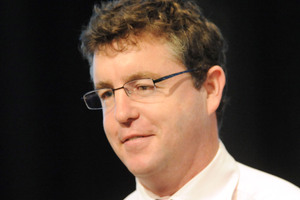 Business confidence has softened in National Bank's monthly survey.
While firms' view of the general business situation was unchanged from last month's at a net 17 per cent positive, their expectations for their own activity fell 4 percentage points to a net 25 per cent expecting improvement - a level in line with the historical average.
Profit expectations, hiring intentions and export intentions also fell, but investment intentions firmed.
A net 15 per cent of firms expect to raise their prices over the next three months, down 3 percentage points on last month's survey to a three year low.
Inflation expectations also eased, from 2.9 to 2.36 per cent.
"The inflation genie remains in the bottle," the bank's chief economist, Cameron Bagrie, said. "Were it not for an impending city rebuild and the robustness of the Auckland property market, the case for an interest rate cut would be compelling."
Reserve Bank governor Graeme Wheeler, while keeping the official cash rate on hold "for now" on Thursday, highlighted pricing intentions and inflation expectations as data the bank would monitor closely over coming months.
Westpac chief economist Dominick Stephens said it was not obvious in which direction the "for now" was intended to soften the "on hold".
"The Reserve Bank is already forecasting a decline in inflation expectations towards 2 per cent," Stephens said.
"What we have been given is pretty explicit guidance that if inflation expectations fall further than that then there is room to reduce the OCR if necessary."
The survey found sentiment weaker across all sectors apart from services, and particularly weak in agriculture.
"The finger can be pointed at the combination of a high currency, wobbly commodity markets [though firming of late], a levelling out in [the] production boost courtesy of Mother Nature, and growing nervousness over the impact of environmental regulation," Bagrie said.