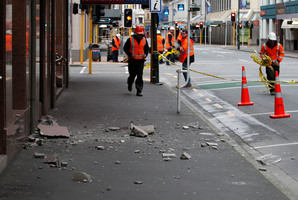 Nearly 6000 claims have been lodged with the Earthquake Commission over the magnitude 6.6 August quake which rattled central New Zealand.
The deadline for claims over the August 16 quake, centred near the Marlborough town of Seddon, was today.
When it struck, properties in the Marlborough, Tasman and Wellington regions were damaged.
Several Seddon residents also chose to evacuate their homes for a few days to wait out a period of strong-after shocks.
The Earthquake Commission (EQC) said of the 5815 claims it had received for August quake, nearly half of them were for the Marlborough district.
Claims for the two July quakes, which struck in the Cook Strait, totalled 6245.
So far, the EQC said $6.7 million had been paid out for claims.
The majority of claims it had received were for damage to properties.
Meanwhile, a Canterbury university research project investigating the impact of building movements in the July and August quakes has been launched.
Dr Brendon Bradley, a Canterbury University civil and natural resources engineer, said the project would examine the effectiveness of design and assessment structures used to help strengthen buildings against earthquakes.
"Incorrect assumptions can be catastrophic due to excessive floor accelerations and building displacements,'' he said.
The response of several Wellington buildings "wired up'' to instruments which measured their response and ground motions during the July and August earthquakes will be examined in the project.
"We will have a better understanding of the dynamics of the response of simple systems and how much buildings swayed in the magnitude 6.6 July and August Seddon earthquakes this year following our research,'' Dr Bradley said.
Ethan Thomson, a Canterbury University scholarship student, will be assisting Dr Bradley with the research project, which focuses on 10 commercial and industrial buildings of differing heights and structures in Wellington.
The project will span six months, with results expected during the first half of next year.