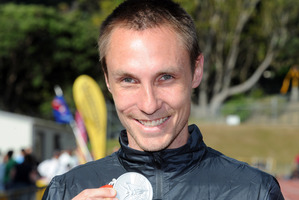 The paint was near peeling off the walls of Whitehall's Banquet House. Given that a lot of that paint was applied by Peter Paul Rubens, it would have been one of the most expensive parties in history.
But Neil Finn rocked and the bow-tied and frocked-up guests rolled. There was a magnificent absence of self-restraint as Finn, accompanied by his youngest son, Elroy, belted his way through a platinum selection of his back catalogue.
It would be tempting to say the great and the good (and other tag-alongs invited by the New Zealand Olympic Committee) were on the verge of losing their heads, but given that the Banquet House, and Rubens' magnificent ceiling, were among the last things King Charles I saw before he, quite literally, lost his, it would come across as a cheap joke. We're above that here.
The shindig gave the sense that the Olympics had stopped becoming a concept and were actually started. That impression was helped by the naming of middle-distance runner Nick Willis as the flagbearer.
It's easy to become cynical about these announcements and the way chef de mission Dave Currie puffs himself up to his full height to deliver them, but Willis restored the faith.
The committed Christian was clearly humbled by the honour. His speech was magnanimous and humorous. Heck, the guy gave the impression he had never been so proud in his life (at one point he said it meant more to him than standing on the podium in Beijing) and if it means that much to him, well it means a bit more to me now, too.
Willis even admitted he'd played the elimination game in his head as he tried to second guess the NZOC.
Would it be another rower? Probably not. Paranoid delusions or not, many in the rowing fraternity believe the buckets of sweat Mahe Drysdale sacrificed while wearing the traditional Maori cloak in the sweltering heat of Beijing four years ago contributed to his ill health and, possibly, turned gold into bronze.
Maybe it would be Valerie Adams? Again Willis guessed rightly that her single-mindedness and desire to arrive later was likely to rule her out.
Of those remaining who had led blameless lives of excellence, only Willis and triathlete Bevan Docherty seemed genuine candidates. Willis' event, the blue-riband 1500m, probably tipped the scales his way.
So it was Willis who was escorted through the doors into Whitehall's Banqueting House and it was Willis - with a little help from a couple of Finns - who left guests with the feeling this was going to be a very good fortnight or so.