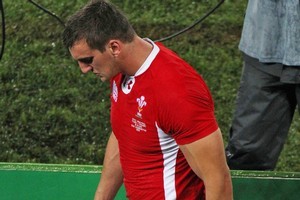 Has there ever been a more undeserving World Cup finalist than France, loser of two pool games and victor in a semifinal where they added nothing except a lineout and capable defence?
They won for one simple reason: they had more players on the park.
So then, a penny for referee Alain Rolland's thoughts as he watched, from a distance of no more than a couple of metres, Sam Warburton first stop Vincent Clerc, then lift him, then drive him into the turf.
Did he stop to think about the occasion? It was a World Cup semifinal, the global rugby community watching and a fair few others the sport would like to convert.
Did Rolland stop and think about the player? Warburton, Wales' captain and one of the most impressive players of the tournament to date. A tackling machine, yes, but few would label him dirty.
Did he stop and think about the impact the toughest sanction would have on the match?
Rugby is a hard game to manage 15 on 15, 15 on 14 is a recipe for a disaster.
Most likely Rolland did not need to think too much at all. The IRB directive issued to whistlers at the start of the tournament was clear. When assessing foul play, the referee was to start at red and work backwards. The haste in which Rolland pulled red from his pocket indicated he felt there was no need to work backwards.
He clearly determined it was more than a technical issue, it was malicious. With one big tackle gone wrong and one reach into the pocket, semifinal one became less of a spectacle and more of a passion play.
Warburton was on the wrong side of the rulebook, Rolland had it on his side, but still... still you wondered whether a yellow wouldn't have made more sense on every level except the post-match referees' assessment sheet.
In an instant Wales' gameplan went out the window. Now it became a matter of set-piece survival and scrapping for territory and points. The ball would have to be hoisted high and chased.
James Hook would have to make all his kicks. The one from three he landed in the first half hurt his side so it was no surprise to see the vastly experienced Stephen Jones enter the fray early in the second half.
Some brutal pre-tournament training camps in Poland had them fitter they'd been in their lives. That enabled them to cling on, but as Morgan Parra nudged France out to 9-3, there seemed little way that Wales could recoup the deficit.
Then suddenly, out of nowhere, Mike Phillips darted on a wide blind, shrugged off Pascal Pape and closed the gap to one. Jones, crucially, missed the conversion.
Wales came alive. At times it looked like they had 15 men, France 14.
Try as they might, they couldn't quite climb the mountain.
As the minutes ticked by they were the only team playing rugby, but sometimes, unfortunately, that's not enough.