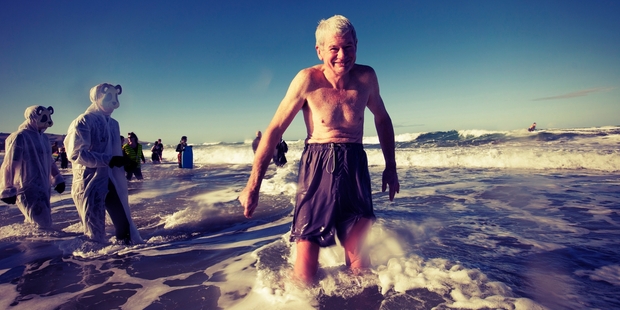 Origin of name: The coast from St Clair to St Kilda was known to Maori as Whakaherekau, which translates as either "to make a conciliatory present" or "a prepared snare that caught nothing". Both options speak volumes.
Population: 4179 (2001 census, so probably not very accurate).
Where is it: 5km from the centre of Dunedin, a leafy suburb on the coast.
Town slogan: There's no slogan for this suburb, or indeed Dunedin. How can you encapsulate so much in a single phrase?
Interesting historical facts: Aside from the rich Scottish history, Dunedin was also home to many of New Zealand's first Chinese residents. And St Clair, originally very swampy, was drained and turned into market gardens, largely thanks to the Chinese settlers.
Most famous local: Michael Coughlin, celebrity chef. Justin Summerton, artist.
Best local website: go to dunedinlight.co.nz to ogle outstanding images.
Source of pride: Aside from the beach, many say St Clair is a posh suburb without pretence.
Town competition: The South Island Surf Champs are held here every year, as is the Mid Winter Polar Plunge. This year was the 85th nippy dip.
Best reason to stop: If you don't, you'll end up in Antarctica.
Best place to take the kids: The hot water salt pools, an open-air public swimming pool within rocks just metres from the ocean. Opened in 1884, the heating was switched on in the 1960s.
Best place to get a drink: Salt Bar and Restaurant, great for a beer and the food's good too.
Best food: Pier 24 Restaurant and Bar on the Esplanade - home of award-winning celebrity chef Michael Coughlin.
Best flat white: Starfish. Their savoury scones take some beating.
Best walk: Anywhere along the sandy beaches, all the way to Seconds Beach or towards St Kilda.
Best view: Look out from old Cargill's Castle, it crumbles regally on the promontory, gazing out to sea.
Best facilities: The St Clair toilets and changing rooms are perfectly acceptable inside but it's the murals on the outside that make these loos lovely.
Best playground: There's a great playground opposite Salt, near the surf club. Adults enjoy cups of coffee while watching the kids play.
Here for a short time: Take a photo, put it on Facebook, make your friends jealous.
Best shop: Moi Design. Design, homeware, gifts, fashion and furniture. Very pretty.
Best swim: Outside of the hot water pools it'd have to be the sea and its wonderful surf. But remember to swim between the flags.
Why not: Learn to surf in St Clair? It has a great break for beginners right through to experts.
Old news: Dunedin's largest retirement village, Frances Hodgkins, is a grand place to spend your twilight years.
Wildlife of note: Sea lions make regular appearances here and the rest of the Otago peninsula is wildlife central. From penguins to albatross, orca to seals - sometimes you might also spot students.
Join the club: The St Clair Golf Club. High above the cliffs, looking down on the beach, it is many top players' favourite.
Safety warnings: There is a shark bell in the middle of St Clair Esplanade. People take it quite seriously so do not ring it for fun or you will be in big trouble. Also be wary of sea lions who want to play with you: their huge teeth are not just for smiling.
Locals say: It's like the French Riviera here at St Clair.
Visitors say: For the price of a garage in Auckland you can buy a four bedroom home with sea views in St Clair. Wow.
Thanks to Josh, a keen St Clair surfer, for spilling the beans.