Make a point with brand values, says Ben Crawford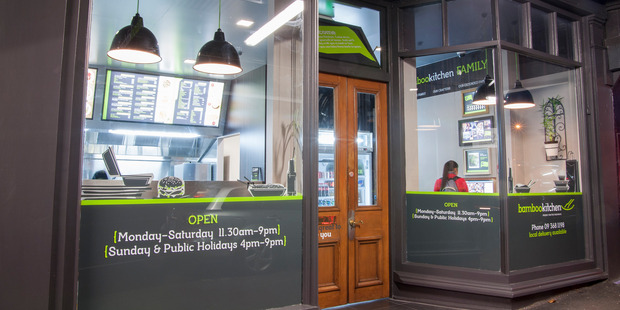 Since winning the first series of The Block NZ last year, most people know that Libby and I started a business, but many just assume it's a renovation or interior design company.
In fact we started an agency in advertising, the industry we've always worked in, and something we had been planning long before we ended up on TV screens around the country.
Design and advertising are remarkably similar. They are visual languages, using stories crafted to generate a reaction from the intended end user. In a home, that story is about you as an individual, about your personal style and beliefs. You want a veil of relaxation to envelop you the moment you walk through the front door and you want your mates to think you've got an amazing home when they visit. Some of the ways that's achieved is via colour, furnishings, decorations and the physical layout.
Similarly, advertising is based on a brand's values, an outward expression of what that company, product or service stands for, and what benefit it can provide you as the consumer. It's communicated through stories, imagery and icons to entertain and connect, hopefully creating a favourable reaction to said good or service.
Hang in there, I have point. Honest.
There is no line in the sand where branding starts and stops. A brand needs to come across consistently no matter where somebody comes into contact with it, from a website or advertisement right through to a store or packaging.
So it's only natural that some of our projects have involved bringing brands to life in bricks and mortar. One of them opened last week in the form of Bamboo Kitchen, a premium Chinese and Asian-inspired takeaway bar.
Owner Norm Ah Num and his family approached us at the start of the year to brand his new business. He had a name, Bamboo Kitchen; he had his processes and famous recipes from his hugely popular Diamond Takeaways, but nothing more.
So we set about developing his brand. We distilled the business down to three core values: being fresh, handmade and family. We then translated that into a style and tone that was applied to all touch points of the business, from the logo, language and website, through to the menus, packaging and the physical store itself.
Now to my point. See, I told you it was coming.
While a home isn't a business, you can use a less clinical branding approach to anchor your interior design decisions by defining your personal 'brand' based on your values.
For example they might be family, honesty and nature. So select natural materials like timber, create openness for transparency and form zones to draw family members together.


Here are three examples of fit-out decisions we made at Bamboo Kitchen based on the brand's values
1. Living family wall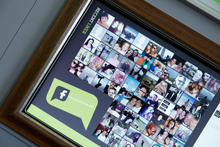 Family is incredibly important at Bamboo Kitchen. It's a family run business and some of the chefs have been with Norm for more than 20 years. We brought this to life via a feature wall by placing photos of the Ah Num family and staff in a variety of frames bought at Briscoes, The Warehouse and Junk & Disorderly. We also framed four television screens so customers can join the family and immediately see their faces on the wall by interacting with social media platforms like Facebook and Instagram.
2. Handmade wallpaper and decals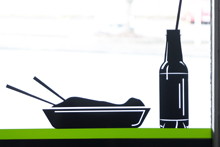 Each meal is lovingly crafted in front of you so our design needed to reflect this handmade value. Libby designed custom wallpaper based on stylised bamboo shoots and drew unique window decals, which were then applied to the surfaces by John Atiga of Seri Graphics. Create your own custom wall coverings and contact John to get them fixed in place, ph 09 299 3737.
3. Lights and stools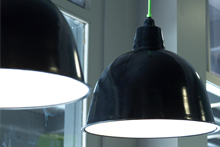 We selected natural rich browns with pops of green as the main colour palette to convey the fresh and handmade qualities of the food and to soften the large amounts of stainless steel needed in a kitchen. These colours were carried through to the cloche enamel lightshades with bright green flex ($135 from greenwithenvy.co.nz) and the wood topped metal stools ($119 from cintesi.co.nz) Check out Bamboo Kitchen out for yourself, and say hi to Norm. Bamboo Kitchen, 15 Mt Eden Rd,


• Ben Crawford and his sister Libby won the first series of The Block NZ. They run their own creative advertising agency, Libby & Ben. Find them at: libbyandben.co.nz