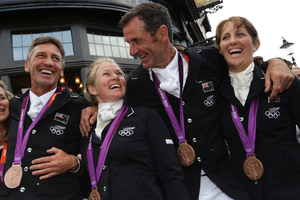 Mark Todd rather ducked and dived over the question of whether he has another Olympic Games in him at Rio de Janeiro in 2016.
Having proved that, at 56, he's still on his game in helping New Zealand win their teams bronze medal at Greenwich Park yesterday, Todd gave an "I'm not going to say yes and I'm not going to say no" answer.
"If I feel I am still enthusiastic about it, if I feel I can still be competitive and a useful member of the team, I might be tempted to keep going."
Fellow veteran of seven Olympics Andrew Nicholson, unluckily fourth in the individual event, and team coach Eric Duvander reckon they know the answer on behalf of the five-time Olympic medallist.
"He doesn't take much convincing. I think the buzz he has got here will be enough to keep him going for a bit longer," Nicholson said.
Said Duvander: "He dearly wants a team gold for New Zealand. His ability is extraordinary and he's not an old man. He's a fit, flexible top athlete."
Todd will be 60 in Rio, Nicholson 54. But Duvander knows it is the new crop coming through who are at least as important to the overall strategy in Brazil.
"We need to keep producing younger riders," he said. "We've still got a few more in New Zealand who need to be picked up and brought into our performance programme."
Of the quintet in London, Jonelle Richards is 31 - having been born in the year the legendary Todd won the first of his four Badminton titles - Jock Paget is 28 and Caroline Powell 39.
Clarke Johnstone, 25, was desperately unlucky not to make the Olympic team because of an injury to his mount, and there are other New Zealand riders of a similar age starting to make a name for themselves.
They will have seen Richards standing on the podium alongside winners Germany, silver medallists Britain and Todd and Nicholson and fancy some of the same.
"The beauty of my job is they're so self-motivating," Duvander said. "It's about making sure everything is in place at the right time."
Planning for Rio began four months ago, he said.
The key was to leave nothing to chance and make sure riders were at the top of their game when it mattered.
Motueka-born Richards has plenty of tales to tell her mates after yesterday.
"Every rider has a milestone. This certainly is one, and getting a medal, but I look at it as the start of a long career and many more Olympics to come," Richards said.
The idea is to blend the younger riders into the setup, make it more competitive for places and Todd, should he decide to make one last tilt in Rio, can provide the wisdom, along with Nicholson, who is sure to carry on.
"These guys don't look like they're going to disappear in a hurry but if we can integrate it with the new generation coming through, then hopefully by the time they step down we'll be ready to fill their shoes," Richards said.
Times have been lean over the past couple of Games for the eventers. Yesterday's result changed that.
"It's nice to think we're perhaps out of that era and can look into the future with some exciting positivity," Richards said.
Todd has joined a special group with his medal yesterday.
Three athletes can now boast a span of 28 years from their first Games medal to their last.
Todd joins Swedish sailor Tore Holm (1920-48) and Hungarian fencer Aladar Gerevich (1932-60).
Then again, Todd may not be finished either.