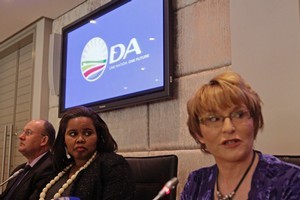 I'm currently in Africa, a continent full of dictators whose presumably noble original intentions have morphed into despotism as those in charge of a country conflate their personal best interests, with the country's overall interest.
Even nominally democratic South Africa resembles a one party state (in the Singapore tradition, rather than the more malign alternatives) with the ANC undefeatable in the national parliament and eight of the nine provincial governments.
The best of intentions often descend into a mixture of incompetence and even corruption when a political party, or a politician, rules for too long with no real chance of losing an election to the opposition.
In South Africa, one of the nine provincial governments has elected a Premier from a different party. In Western Cape, Helen Zille is the Governor, representing the Democratic Alliance which she is also the federal leader of.
Zille is praised widely in Cape Town, a city she used to be the Mayor of, and was proclaimed World's best Mayor in 2008. In Cape Town crime has declined massively (down 90% in the BCD over five years) and the economy grew 12% in her first two years in office.
Now in case anyone thinks Zille is some sort of opponent of equality, she was the journalist (when in her 20s) who exposed the truth behind the death in custody of Steve Biko. She was arrested by the apartheid era Government for her activities. This helps explain why she increased the vote for the Democratic Alliance by 24% in a province which is 50% coloured, 30% black and 18% white.
The thing that strikes me the most is the corrupting influence of unchallenged power, and how essential it is to have both a viable alternative in the opposition, but also limits on how long individuals can wield power.
In how many countries has a ruler who has served say more than 15 years actually been good for the country? There are one or two exceptions such as Singapore, but the far more common alternative is Zimbabwe where the bread basket of Africa has become a failed state due to the inability of one man to surrender power.
Now in New Zealand, we do not face these problems. John Key does not want to rule for ever. I suspect he would be glad to serve for eight years or so, and then depart Parliament in 2017. However for far too many politicians, politics is about how often they can get re-elected.
Hence I have been a long-term champion of term limits for both MPs and PMs. I first proposed a six term term limit for MPs in the early 1990s when I was a Young National. The NZ Herald helpfully pointed out that the only two MPs it would effect and push out of Parliament were jim Bolger and Bill Birch, neglecting to mention I had proposed existing MPs be grand-fathered in. So I avoided the Beehive for a few months.
I still believe a term limit of say six terms would be a good thing for New Zealand. If MPs knew that they had a maximum tenure in Parliament, I believe they would focus more on what they could achieve during that limited time, rather than be focused on how to get re-elected time after time after time.
Arguably one could also have a term limit for the top job of Prime Minister also. Isn't nine years enough for any one person to make a contribution?
Some people argue against term limits saying they are undemocratic as they prevent the public from voting the same person back into office time after time. But I see it differently. I think incumbents have a huge advantage often, and term limits stop them using that incumbency advantage to retain power for extended periods of time. Consider what limits of excess US Presidents might go to, if they were able to seek re-election for more than two terms. The moral (and now constitutional) limit of two terms set be George Washington has been one of their greatest strengths - especially when you contrast how it has been exploited in Russia with Putin's thirst for continual power.
So I hope the constitutional review next year considers the issue of term limits and recommends them. I think it would improve government in New Zealand.