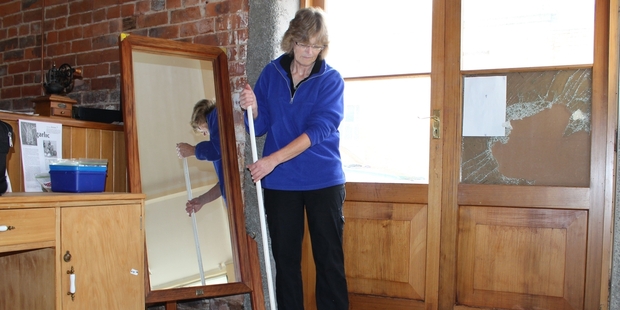 Dannevirke businessman Kim Phelps is fed up after the fifth break-in at his High St premises in four years.
"I've got the most finger-printed till in Dannevirke," he said. "But the ironic thing is that there isn't any cash kept here on the premises, just as the signs all around the building say. In fact, there's nothing here to take unless the thieves want some jam or a natural health magazine or two."
Of the five break-ins, three have occurred since November.
"There was no cash there to be taken in all three of those," Mr Phelps said. "I'm thoroughly sick of being targeted, with the cost of repairs adding up.
"I've got insurance but it would cost me more to make the claim than it's worth, so it's been five times I've had to pay for repairs myself," he said.
And if four break-ins weren't enough, Mr Phelps also had to pay $1000 to have a window facing High St repaired after two drunks fighting on the street smashed into it.
Mr Phelps said the damage bill then was $2500, but his insurance company weren't prepared to pay for good quality glass and he was left to pay.
Constable Dave Frith said Dannevirke Police are following an avenue of enquiry regarding this latest break in.
"It appears a large river rock was used to smash through the glass," he said.
Mr Frith said police are keen to see CCTV cameras installed as soon as possible around the town.
"If there were cameras in the area around the osteopath clinic they would have given us a better idea of who was out and about at the time of the break-in," he said.
Dannevirke Chamber of Commerce has been pushing for the cameras and encouraging people to help fund the system, which was initially mooted by the Dannevirke Promotion and Development Group. "There's no reason why we have to wait for the final costings [for the cameras] to come through before getting some cameras up and running," Suresh Patel, chairman of the chamber of commerce, said.
"Our chamber members would certainly like to see the CCTV system installed as soon as possible."
The initial 37 high-quality cameras, costing about $2200 each, will provide coverage throughout the town, as well as down alleyways and at the Domain.
For more articles from this region, go to Hawkes Bay Today