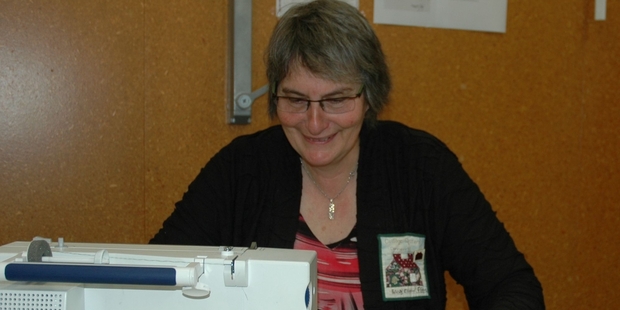 The Dannevirke Cottage Quilters have just 11 members, but their annual display at the weekend was breathtaking, visitors said.
"This is a jolly good show, just wonderful," 80-year-old Margaret Ransom of Dannevirke said.
Cynthia Irwin, the Cottage Quilters president, said the 11 members had contributed 26 quilts and other smaller articles, including dolls and bags, and the exhibition was bolstered by a display by Probus members and the Dannevirke Spinners and Weavers.
For member Felicity Ellison, quilting isn't a chore but something she loves.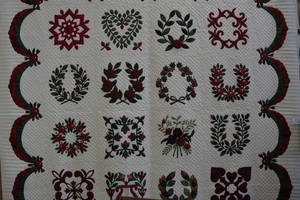 "I guess you could say I've got a magic needle," she said. "I've been sewing since I was 8 and have been a member of the Cottage Quilters for 20 years.
"I love fabrics and when I was a child I made dolls' clothes and my own when I was at boarding school. My mum used to let my brother and I use her sewing machine and when she purchased a new Bernina, I was able to use that too. I have a special attachment to piecing things together and seeing the pattern appear."
However, Felicity doesn't confine her talents to just traditional quilts.
"I'm probably past traditional quilting and I'm now looking more into wall quilts and artistic quilts using materials other than fabrics," she said. "Mind you, I do have a lot of fabrics I still need to use."
Felicity has taken her craft to a new level, even rusting fabric with vinegar and water.
"I'm more into that than dying fabric these days," she said.
Probus Club member Elizabeth Judd had a hand-stitched quilt on display.
"Dannevirke's Joan Greatbatch used to do the most beautiful quilts the traditional way and I thought if she could do that with her crippled hands then I could too," Mrs Judd said.
Mrs Judd was among a group of quilters who first got together at a quilt shop in Palmerston North eight years ago and it was there she began working on her quilt.
"I don't know how many hours I've put into it but it took me from June to February to hand quilt it and now I'm working on another one," she said. "Our tutor, who has now passed away, was wonderful. Another person who inspired me was Dannevirke's Gwen Fairbrother. I was one of the girls who had the pleasure of being taught embroidery by her at Dannevirke High School."
Mrs Judd said the Dannevirke Probus embroidery group has had women in their 80s join and pick up embroidery techniques.
"Dannevirke is an amazing place and I've been very lucky people have come along in my life who've influenced me," she said.
The quilts will be heirloom pieces for three branches of Mrs Judd's family.
"The idea is to make one for each and they can fight over who gets them, but this one is earmarked for my daughter-in-law," she said.
For more articles from this region, go to Hawkes Bay Today